Drive-up self storage is a type of storage where the renter can drive their vehicle right up to their storage unit for easy loading and unloading of belongings.
Also known as drive-up mini storage, these units are typically located on the ground floor and have roll-up doors for easy access.
They're convenient for those who need frequent access to their belongings. Plus the storage facility is usually located near a main road so you can quickly get to your storage center.
Drive Up Self Storage
Drive up self storage is convenient because customers can drive their vehicles around the building and park them next to the unit. Simply load and unload directly from your vehicle. This makes it easy to access your items without having to climb stairs or use elevators.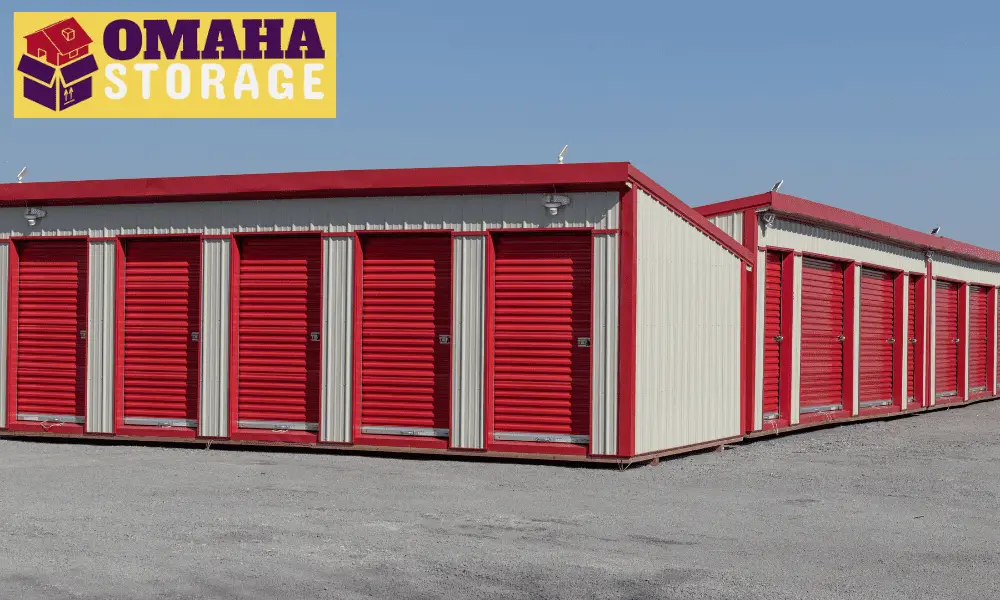 Rows of drive up storage units offer quick convenience.
Advantages of Drive-Up Self Storage
Drive-up self storage offers many advantages over traditional self storage, such as ease of access, increased safety and security — and versatility.
These are perfect for those who have a lot of belongings to store or who may find it difficult to move their belongings up and down stairs.
Drive up storage units are like having garage space at home. You simply drive right up to your mini storage unit — during access hours — and load and unload items.
A drive in storage unit facility is arranged in rows with paved driveways between them for easy access.
Since you don't need to walk far from your vehicle, you can easily move furniture, appliances, and more inside your self-service facility. You can also check on your items quickly whenever you want.
Drive up "self storage" and drive up "mini storage" are basically the same thing. Mini storage is a popular term from the 1970's that has stuck — and works well for the marketing of storage units. Self storage is the original storage name dating all the way back to the first use in the 1880's.
If there is a difference, then it would be that self storage technically is outside access while mini storage can also include enclosed access consisting of smaller (mini) units. Lately, the terms have been used synonymously to keep from confusing storage renters.
The main thing is regardless of which name is used, the facilities allow you to conveniently store your items. You get the convenience of being able to drive up to the unit to load (or unload) your belongings.
The best storage rates are often kept secret. You can call now to get an estimate and reserve your space — all within 5 minutes.
How to Choose the Right Unit
It's important to know the general size of the drive in storage unit you may need — this knowledge gives you a good head start. Our article about choosing the right sized unit can help you have an idea of the general size you may need.
Next find a convenient location that has the security features you want. Then consider climate control features you may need. It's a good idea to visit the facility in person.
6 Benefits of Drive Up Self Storage
Convenience
When you're looking for an alternative to traditional indoor self-storage, drive up mini storage may be the perfect solution. You get to store your things in a safe, secure location — where you can easily access them. Since you don't need to go through extra security checks to get to your unit, you also save a ton of time.
Security
Drive-up self storage facilities typically offer increased safety and security measures — such as gated access, surveillance cameras, and individual unit alarms. This added security gives renters renewed peace of mind knowing their belongings are safe.
Flexibility
If you're looking for flexibility, then drive up mini storage might be the best choice for you. Drive up mini storage gives you the ability to choose from many available unit sizes. The most popular size is the 10×10.
Access
Another great feature about drive up mini storage is its accessibility. Since these units are located close to major roads, you'll find it easy to drive to the storage center. Plus, you won't have to worry about climbing stairs or using an elevator once you get there.
Drive up storage units are convenient because they are outdoors. However, they're usually not climate controlled. This means the items in storage could be affected by changes in weather and humidity.
However, some storage centers are now offering drive up climate controlled storage. If you need this feature, you can probably find a good center nearby.
If you're comfortable storing your items in a standard garage, then drive up storage can also work. The drive up storage unit is like adding your own bonus garage.
Affordable Price
One of the biggest benefits of drive up mini storage is how affordable it is compared to other options. Since they are not climate controlled, usually they're the most affordable option for storage.
Many facilities charge by the month, so you won't have to pay by each item stored. Instead, you pay based on the total amount of storage floor space you need. This means you can rent just one unit or several units depending on your needs.
Larger Space
Finally, another advantage of drive up mini storage over other options is that you can use it to store large amounts of stuff. You get the convenience of driving up to your unit without having to worry about finding a parking spot.
Oftentimes drive up units will be in the popular sizes from 10×10 to 10×30. That is a lot of space to hold larger belongings.
The Versatility of Drive-Up Storage for Different Types of Items
Drive-up self storage units are often flexible and can accommodate a wide range of items, such as household furniture, appliances and even business inventory and equipment.
These units can also be used for storing recreational vehicles, boats, and vehicles — depending on the rules of the individual storage center.
Drive-Up Storage for Business: Streamlining Operations
Drive-up self storage is also great for businesses needing additional storage space. By allowing easy access to inventory and equipment, its a quick cost effective way to streamline operations.
This type of storage can also help businesses save money on typical warehouse rental costs.
The only thing is typically you can not have customers coming up to your storage unit and doing transactions. That's better suited to an actual location associated with transacting business.
Climate Control and Other Amenities for Drive-Up Storage
Depending on the drive-up storage units, some offer climate control and other amenities (such as electrical outlets and interior lighting). By having strict control over the interior environment of your storage unit, your belongings can remain in optimal condition. This is especially important for storing delicate or temperature-sensitive items.
Drive Up Self Storage Costs
The prices vary depending on the size of the unit and whether the customer pays monthly or annually. Prices can start from $1.25 per sq foot each month to $1,999 per year. Be sure to ask about the current specials for this month.
You can call now to get an estimate within 5 minutes. To serve you quicker, call wait time is near zero.
Frequently Asked Questions about Drive Up Storage
Can I Store a Vehicle in a Drive Up Storage Unit?
Yes! A drive in storage unit can offer vehicle storage. If you're interested in storing a car, truck, RV, boat, motorcycle, trailer, ATV — then check out our article on How to Store a Car.
What is Drive Up Storage?
Picture this: You're driving up to a self-storage unit, and as you approach, you notice the convenience of a wide driveway leading up to the ground floor unit. This is drive-up storage – a type of self-storage unit that allows you to park your vehicle right outside the door.
Whether you're a busy business owner or a homeowner with large, bulky items to store, drive-up storage is perfect for you. Say goodbye to the hassle of carrying heavy items across a parking lot or up a flight of stairs.
With drive-up storage, you can easily access your stored items whenever you need them. These units are located on the ground floor, so you won't have to worry about hauling your belongings up flights of stairs.
Plus, the wide driveways make it easy to maneuver large trucks or trailers, making the process of loading and unloading a breeze. So, if you're looking for a self-storage option that's both convenient and practical, consider drive-up storage for your storage needs.
Is Drive Up Self Storage is Right for Me?
If you are looking for convenient drive up access storage for holding your belongings while living or working in an urban area, then Drive Up Self Storage may be the best option.
It's ideal for those who don't want to pay high rent — or deal with stairs or elevator rides.
And frequently it fills in the gap for when people search for… cheap storage units near me.
Can I Store My Business Property in Drive Up Storage?
Yes, you can store office furniture, supplies, files, tools, equipment, printers, seasonal items, even extra inventory at a drive in storage unit.
Usually the storage center will not allow transacting business transactions at drive up storage units — such as customers walking up to your unit to make purchases.
Can I Store Items that No Longer Fit in My Home Garage?
Yes, you can store furniture, appliances, boxes, toys, camping equipment, sports equipment, garden tools, seasonal items and decorations, and more at drive-up storage units. You can't store chemicals or other items shown on this list. For delicate items like pictures and photographs, you can find out how to store those here. Just search for "storage units near me" to find a convenient center that fits your needs.