Whether you're an avid or a sporadic adventurer, there are times when your RV will not hit the road. All RV owners share a common concern: storage.
After all, owning a bigger vehicle comes with its share of challenges. If you're making such a decision for the first time, you may be wondering; what's the best option for me? 
Unfortunately, most folks make the mistake of renting any space without research. To protect your recreational investment, you should weigh your options. 
The easiest and quickest thing you can do is give us a call. We can show you the best RV storage rates which are often kept secret. You'll get a no obligation estimate within 5 minutes. To serve you quicker, call wait time is near zero.
Things to consider
Cost of RV storage
Many factors can add up to the storage cost. Generally, the price will depend on location, type of storage, size of RV, and the amenities of the facility.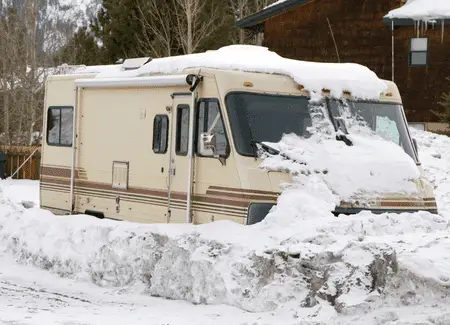 Type of storage (Indoor or Outdoor)
Outdoor Storage
Outdoor storage can be an open field or gravel surface. It's the most affordable option, with the cost ranging from $30-$100 per month. The actual cost will depend on the size of your RV – you pay less for a small trailer than you would for a class-A motorhome.
If you choose a low priced RV storage facility, you should ensure there's enough security. Usually, your RV will share space with other recreational vehicles that are too big to store in a driveway.
Disadvantages
Since your vehicle must withstand harsh weather, the exterior ages faster. Not to mention, you have to bring along anti-freeze items to help your RV withstand the winter weather. Another downside of such facilities is insecurity. 
On the plus side, an outdoor storage facility saves you the hassle of having to drive to the parking area. You can always find a space close to where you live. It's a great choice for those who want to have their vehicle at hand. 
Indoor Storage
An enclosed RV storage facility protects your vehicle from snow, hail, and rain. When your rig is inside, you expect to pay $50 to $125 per month.
If you want to protect your vehicle from winter, you can choose a heated RV storage. Again, be ready to pay up to $400 per month. The actual price will depend on the location and the amenities you use. 
An indoor storage facility is suitable for folks who need to use their RV often. Some will have security cameras making it harder for thieves to break in. Other premium facilities may include sewer dumping, battery charging, and valet packing. 
Factoring In the Size of Your RV
As you research for RV storage space, you should pay attention to the size of your vehicle. After all, the facilities are different. Let's look at the different classes and storage facilities you need.
Class C motorhome (26 feet and above)
These vehicles can be fairly long, so you need a space of up to 37 feet long. 
Class B motorhome
The owners won't need a large parking spot to accommodate such vehicles. The storage facility should still provide at least 25 feet of space. 
Class A motorhome
 These vehicles need the longest parking space – at least 40 feet long. 
 The space you choose should be enough for your recreational vehicle. Some facilities may not accommodate big RVs unless they are built for such purposes. Perhaps, the best approach is to ask the manager to take you for a tour before you make the final decision. 
Location
 The storage facility you choose should be close to your home – not an isolated area. Make sure it's a place you can drop off each day. If you park your RV too far, this can discourage you from checking it often. Choose a facility that makes hitting the road easier than ever. 
Amenities
All RV storage facilities are not the same. Some will offer amenities like battery charging, trash services, sewage disposal, electricity, and access to water.
The more amenities you get, the more you pay. If you're on a budget, you should select a place with only what you need. 
Other Factors
Insurance
Does the facility have an insurance policy in place to cover unforeseen events? You should look at the terms and extent of coverage.
If you have a personal liability policy, look at the terms too. You can also decide to buy extra insurance to protect your investment. Although having a cover means you pay more, such preventive measures are worth it. 
Trained Employees
Will the employees in the storage facility care for your RV? There should always be someone to look after your ride. Besides, there are times when your vehicle will need maintenance and you don't want to book appointments for this. 
The onsite staff at the facility should be well-trained to support your RV storage needs during certain times of the year. 
Security
You should choose a storage facility that has security measures in place. Some will offer basic security; others use high-tech security cameras. Although better security means you pay more, it's worth it in the long run.
Other than that, make sure the facility is in a low-crime neighborhood. Generally, RVs are magnets of vandalism and theft so you want a storage facility with high fences and gated access.  
Flooring
The best indoor storage facilities should have gravel or asphalt flooring. 
Neighborhood Covenants and Restrictions
Some neighborhoods have specific rules that prohibit the parking of trailers on the driveway. In addition, the homeowners association may have rules against parking along the side of your home. An indoor RV storage facility will help you deal with such challenges.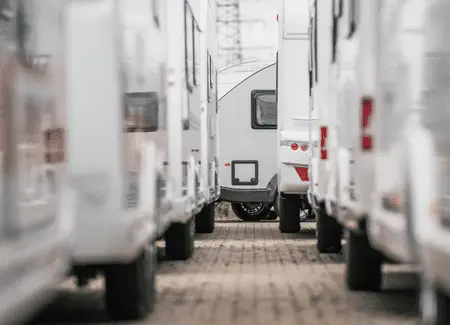 Finding a Low Priced RV Space Near Me…
When searching for the best RV storage facility, you don't have to call several locations. All you need is to go to the web and type `trailer storage near me'.
The Storage.com website can guide you to the best spots that align with your needs. You can even make online reservations.  
Another way to find an RV storage solution near you is through the private storage marketplaces, such as what you find on the Neighbors App. They even have a menu just for RV storage. 
Final Thoughts
Whether you choose an indoor or outdoor storage facility, take your time to figure out the pros and cons of each.
While the latter is pocket friendly, keeping your recreational vehicle indoors means that you get more protection from harsh weather elements. Of course, your ride is more secure.
Indoor facilities may be expensive but you can always find a space that works within your budget. The more information you have, the easier it is to make the final decision. 
You can call now to get an estimate and reserve your space — all within 5 minutes. To serve you quicker, call wait time is near zero.