Moving can be stressful and exciting at the same time. In my last move, one of the more stressful things was moving the large appliances — especially the refrigerator.
Whether you're moving to a new home or putting your refrigerator in storage, it's important to know how to do the process safely and properly.
Here's your step-by-step guide to help you safely move and store your refrigerator, without causing any damage or worse, injury.
Let's get started with a story…
My Story about Moving Our Refrigerator
For me, moving is a stressful time. Moving a refrigerator is no exception.
I learned this lesson the hard way a few years ago when I decided to move my fridge from my old house to a new one.
I thought it would be a simple thing of just unplugging the fridge, wheeling it out to the moving truck and then wheeling it into the new home.
But as soon as I tried to move it, I realized it really is heavy, even with friends helping.
By the time we got the refrigerator outside the old house, I was already exhausted.  I started to wonder if we could even get it onto the truck.
After catching a breath, we persevered. I strapped the fridge onto the dolly and clamped it down. Then slowly made our way to the moving truck.
Once we got it onto the truck, and were moving on the road — I breathed a sigh of relief. I really thought the hard part was over.
But as we drove to the new house, I couldn't help worry about the fridge falling or getting damaged during the journey. At this point I noticed every pothole and bump in the road — I did not remember those being there before.
Fortunately, we made it to the new house without incident. It was a challenge trying to slowly go down the ramp with the refrigerator but with a little back and forth, we slowly eased it down the ramp and got it set in the new place.
Looking back… I wish I had known then what I now know about safely moving a refrigerator.
When I saw what my piano mover was able to do, I then realized that with the right tools and techniques, it's possible to move even the heaviest of objects and appliances without too much stress and worry.
Hopefully my information below from the experience I gleaned can be of benefit to you in your move.
Preparing Your Refrigerator for Moving
The first step in safely moving and storing a refrigerator is to prepare it for the move.
Here's what you need to do to make it a less stressful move:
Fridge Prep Work
The first thing you need to do is remove all the food, drinks and ice from your fridge.
Pack food items into boxes — or donate to charity.
Once all the food is removed, clean all the surfaces and start defrosting the fridge. It's important to defrost because any humidity in the fridge might cause mildew, which could damage to your refrigerator while moving.
The humidity can also cause dust to collect, which can later cause your refrigerator to not cool well.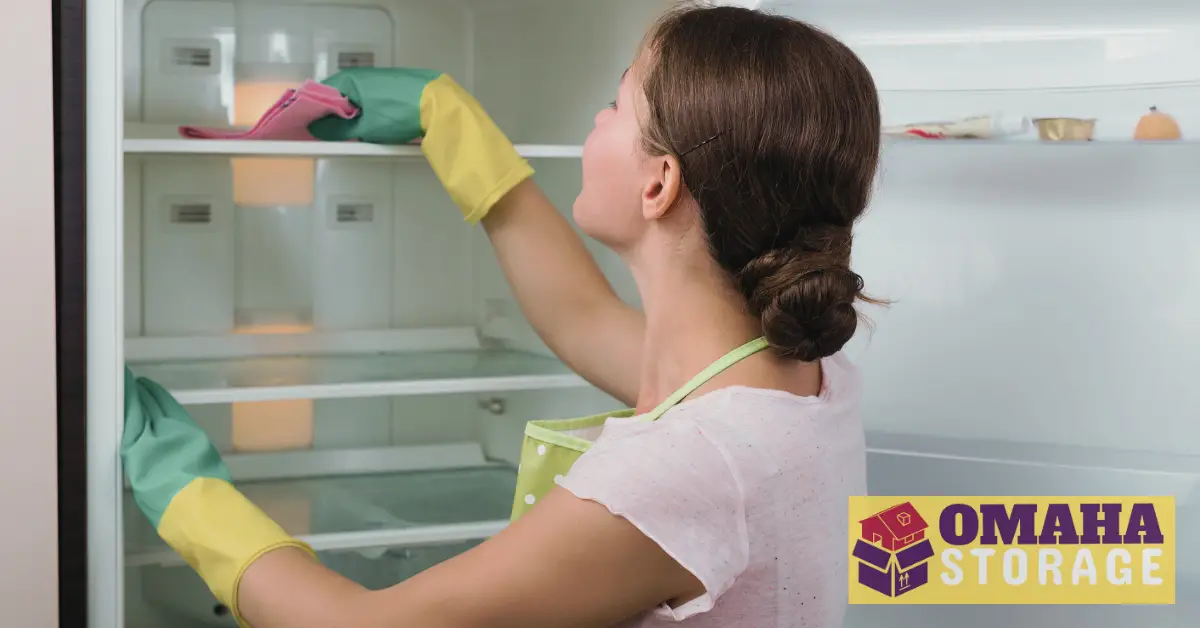 Cleaning the Refrigerator
Once your refrigerator is empty, clean the inside and outside of the fridge. Take out all of your drawers and shelves and soak them in warm soapy water.
You can also wipe down the inside of your fridge using a little bit of baking soda and water. Just don't use anything that's too abrasive, like ammonia or chlorine bleach.
Wipe down the outside of your fridge as well.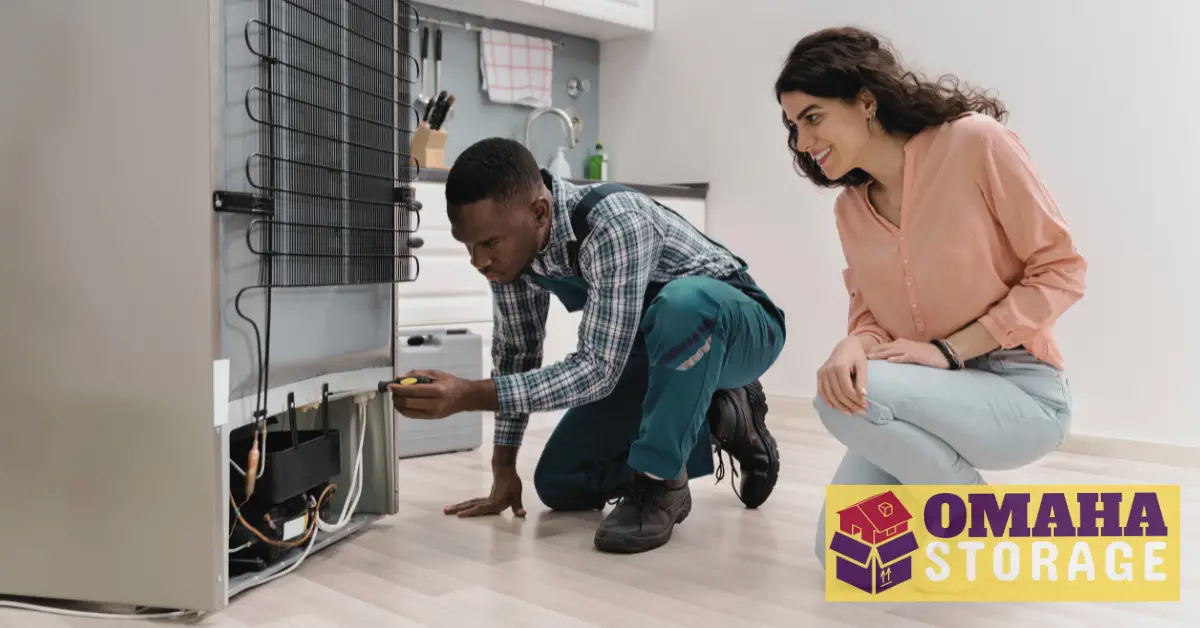 Clean Off the Coils
Dust off the coils on the back of the fridge with a vacuum cleaner or a dry cloth. What I do is dust off the back and then take the host from the shop vac and pull out any dust. Be sure the refrigerator is unplugged before touching the back with a cloth or vacuum hose.
The hardware store sells long pointy bristle brushes that are very effective to remove dust behind the refrigerator and underneath. This will help your fridge run efficiently.
Disconnect the Drainage Line
If your fridge is connected to a drainage line, disconnect it before you move your fridge. Also watch out for any inline filters or filters inside your refrigerator — each should be removed. Check to make sure the ice tray is empty.
Defrost Your Fridge
To start the defrosting process, go ahead and unplug your refrigerator. Make sure you put some towels down on the ground around the fridge to catch any water that might drip.
You want to do this about a week before you actually put your fridge in storage, because you want to make sure that it's completely dry.
If you don't, and your fridge still has some moisture inside, you create an environment where mold might grow excessively.
Moving Your Refrigerator to a Storage Unit
Once you've prepared your refrigerator for storage, it's time to move it. Remember that it's best to keep the refrigerator as upright as possible to maintain the integrity of the inner workings.
You're not supposed to lay a refrigerator down. But if it happens, try to get it back upright as quick as possible.
Here's the moving process:
Having Correct Equipment
To move your refrigerator, you'll need furniture sliders or plywood panels, an appliance dolly with straps, furniture blankets, rope, packing tape, measuring tape, work gloves and at least two or three strong reliable people to help you out.
Planning Your Escape Route
Measure the width and height of your refrigerator and compare it with all the openings and pathways on the way out.
Make sure to clear all the doors so moving it will be as non-problematic as it can possibly be. You might have to take a door off the hinges if you need the extra clearance.
Protecting Your Floors
You'll want to protect your floors when moving a refrigerator. This would be for the place that the refrigerator is leaving and for the place where it will be newly relocated.
Sometimes renting or buying plywood panels or specific covers for floors is very essential. You can rent or buy those at any close Home Depot store.
We also found that Ross and TJ Maxx have those moving dots that you can slip under furniture and appliances to keep the feet from scuffing floors. Those are a great help and very affordable.
Moving the Refrigerator
Close down the refrigerator door and put rubber tapes on all parts of the power cord that might be sticking out or that could get damaged during the move.
Then, put a dolly underneath it. Make sure that you tilt it back very slowly and very carefully, and you will be able to take it out of your house by pushing it and getting it down the stairs or wherever you want it to be.
Make sure that you never tilt the refrigerator more than 45 degrees up or down, or you risk losing your balance.
Also, keep in mind that by the Department of Transportation regulations, you never can put the refrigerator on its side. It is dangerous and unlawful.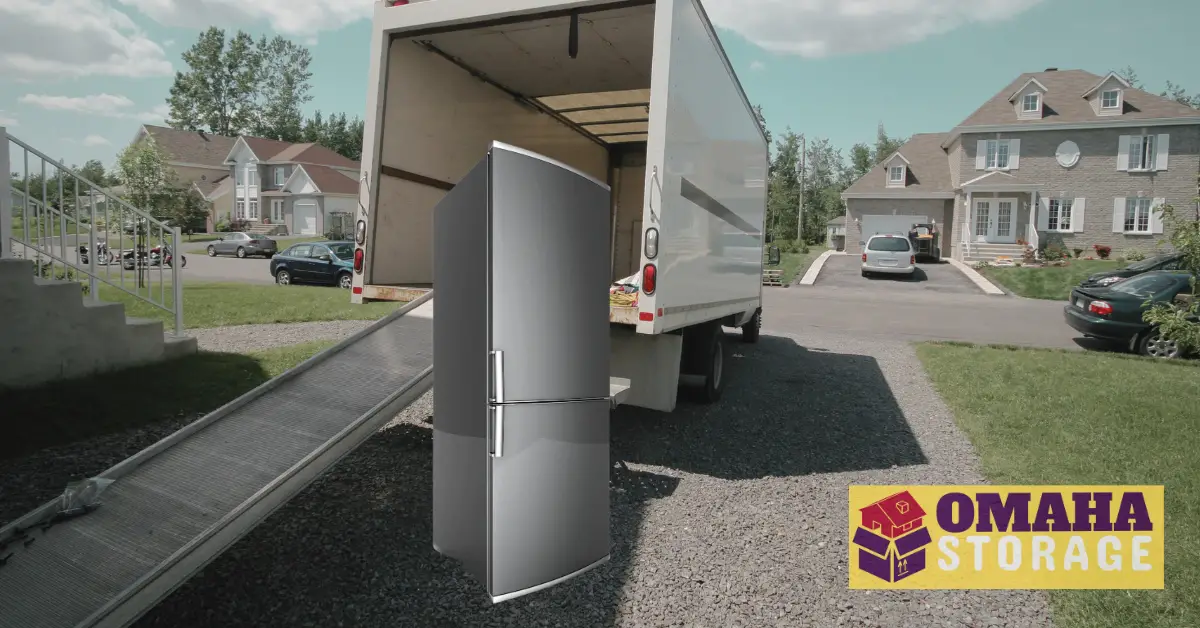 Safely Loading a Refrigerator onto a Moving Truck
Now that the refrigerator is out of its old location — if you are not using professional movers — you'll need to load it up onto the truck.
Here are some tips on how to safely load and unload the refrigerator onto the truck.
Prepare the refrigerator for loading
Doublecheck and make sure all the drawers and shelves are secured safely with tape to prevent them from falling during transportation.
You should also tape the refrigerator doors shut to prevent them from opening during transportation.
Use good condition equipment
When it comes to moving a refrigerator, it's crucial to have the right equipment.
Make sure to rent or buy an appliance dolly with straps to safely move the refrigerator without damaging it or hurting yourself.
Furniture blankets (or padding) can be used to protect the refrigerator and the moving truck from damage and scratches during the move.
Loading the refrigerator onto the truck
As you may have guessed, make sure you have a clear path from the front door to the truck.
You should have already had someone else help you load the refrigerator onto the dolly. Once you have the secured refrigerator on the dolly, tilt it slightly backward and push towards the truck.
We encourage you to use a moving truck with a ramp for this. We encourage you to always have help in this process.
Here's a video showing what to do:
Unload the refrigerator from the moving truck
Unloading the refrigerator from the moving truck requires the same level of care as it did while loading it.
Make sure you have a clear path from the truck to the new location of the refrigerator.
Use the dolly to move the refrigerator, keeping it level to prevent damage.
Here's a video to demonstrate:
We encourage you to always have help in this process.
Be careful when navigating through tight corners, and make sure that the refrigerator does not touch any walls or doorframes.
Once you have reached the final destination, carefully remove the straps and the blankets, and then proceed to untape the doors.
How to Prepare a Refrigerator for Storage
Once you've safely transported your refrigerator to your storage location, it's important to prepare and store it properly to avoid damage and ensure that it remains in good working condition.
Here are some tips to help you do just that:
Keep it upright
Just like during transport, it's important to keep your refrigerator upright while in storage. This will prevent any damage to the condenser or compressor, which can happen if the fridge is tilted at an angle.
Leave the door open
To prevent any musty smells or mold growth, it's a good idea to leave the doors of the refrigerator slightly open while in storage.
This will allow it to breathe for proper air circulation and ventilation. This step is also handy for washing machines – to leave them open to ventilate.
You can use a piece of cardboard tube or a coat hanger to help keep the door propped open.
Use protective covering
You can use blankets, towels or specialized refrigerator covers to protect your fridge from scratches, dents and other damage while it's in storage.
Avoid temperature extremes
While it's not strictly necessary to have climate control for your storage unit, you should avoid exposing your fridge to extreme temperatures. This means avoiding areas that are subject to direct sunlight or freezing temperatures.
Check periodically
Even if you don't need to use your refrigerator for a while, it's important to check on it periodically to make sure everything is okay.
This can be as simple as making sure the doors are still slightly open, and that there are no signs of damage or wear.
So my advice:
Try not to stress out about moving the refrigerator.
Take your time and plan it out.
Make it a moving party with some food for your friends and do the move in staggered moments — so you can catch your breath.
Focus on safety.
Remember to clean, defrost, and dust off your fridge before moving it, and do your absolute best to keep it upright during transportation and storage.
Having a good strong dolly with a strap and handle that then clamps to your appliances is a huge help. Now I know to get a dolly with those larger pneumatic tires — those bigger tires really give you added leverage and makes the job so much easier and comforting.
By following these tips, you can successfully move your refrigerator and keep it in top condition for years to come.
Frequently Asked Questions
What about moving a refrigerator by yourself?
Imagine a close relative just moved into a home and needs a refrigerator — and you happen to have an extra one you can loan out.
You've got to move the refrigerator — and want to do it quickly. What to do when you need help moving a refrigerator and can't find anyone quickly enough. Do you just try to move it by yourself…
Moving a refrigerator by yourself is generally not something you want to be doing. You've got that heavy weight to consider, the bulky size and even the  complexity of the appliance.
A refrigerator can weigh anywhere from 200 to 500 pounds — moving it incorrectly can cause injury or damage to the refrigerator or your home.
It's better to get some help for these reasons:
Personal Safety: Refrigerators are heavy and bulky. You could potentially injure yourself if the refrigerator falls or if you strain under its weight.
Property Safety: Trying to move a refrigerator by yourself increases the risk of damaging floors, walls, or the refrigerator itself.
Complexity: Refrigerators need to be prepared before moving. This includes defrosting, cleaning, and securing the doors, which is easier to do with another person.
Installation: Once you reach your destination, you'll also need to maneuver it into place and connect it to the power and water supplies, which can be difficult alone.
If you need to move a refrigerator, think about recruiting some friends (or even hiring professionals). If there's absolutely no other option and you must move it by yourself, consider using special equipment like a dolly and those special straps to help you move safely.
No matter what, there's always significant risk involved. Be safe and ask for help.