Private storage is a new trend providing an alternative to traditional storage options. With this method, you don't have to look far to find a place for your items.
Often there's a spot right in your own neighborhood or around the corner.
My perspective, as the writer of this article, is that traditional self storage centers are easy, convenient and actually very cost effective — especially considering all the size options and security that you get. Plus you get your own facility manager to help with any issues.
However, there are times when private storage might suit you… such as the convenience of short term rental periods or having a location in your zip code that you can walk to.
Private Alternatives to Storage Units
The private storage marketplace has grown into a big business. In 2023, it's at the point to where traditional self-service storage facility can no longer ignore this growing trend (that's why you can find so many great deals lately!).
Basically this growing trend is an alternative to storage units where individuals can post their own available spaces for rent. Neighbor.com is among the largest of these private storage marketplaces.
There are some people that say traditional storage units can be costly. For example, self-storage facilities in urban centers can have an average cost anywhere from $300-$500 per month.
However, storage centers in suburbs are where you can find the better deals — and often rental fees are around $150 a month.
If you shop around, there's so many competitive deals available at traditional storage centers because of this latest trend.
But for now… let's do a deep dive into exactly what private storage is and why it's called an "alternatives to storage units" — and how it works.
What is Private Storage…
The short answer… it's kind of like an AirBNB or a VRBO – but for storage space. It truly is an alternative to storage units.
The longer answer is that it works through a peer-to-pear online platform that connects people who have extra space with people who might be looking for some extra space.
The host who owns the space earns extra income — and the renter saves some cash.
The purpose of the service is for renters to be able to find low-cost storage space in their area and then the service connects available hosts. With this service, you might not have to pay some of the traditional storage center fees.
Private storage is a great option because it allows you to rent out space to those who need it without having to worry about cleaning, maintenance, or repairs.
Most renters will show up on average three to four times per year.
That means you'll save money over the long term. It means you might not have to deal with frequent strangers coming into your home.
Private storage is seen as a practical way to generate passive income and offers convenience for anyone who needs extra storage room.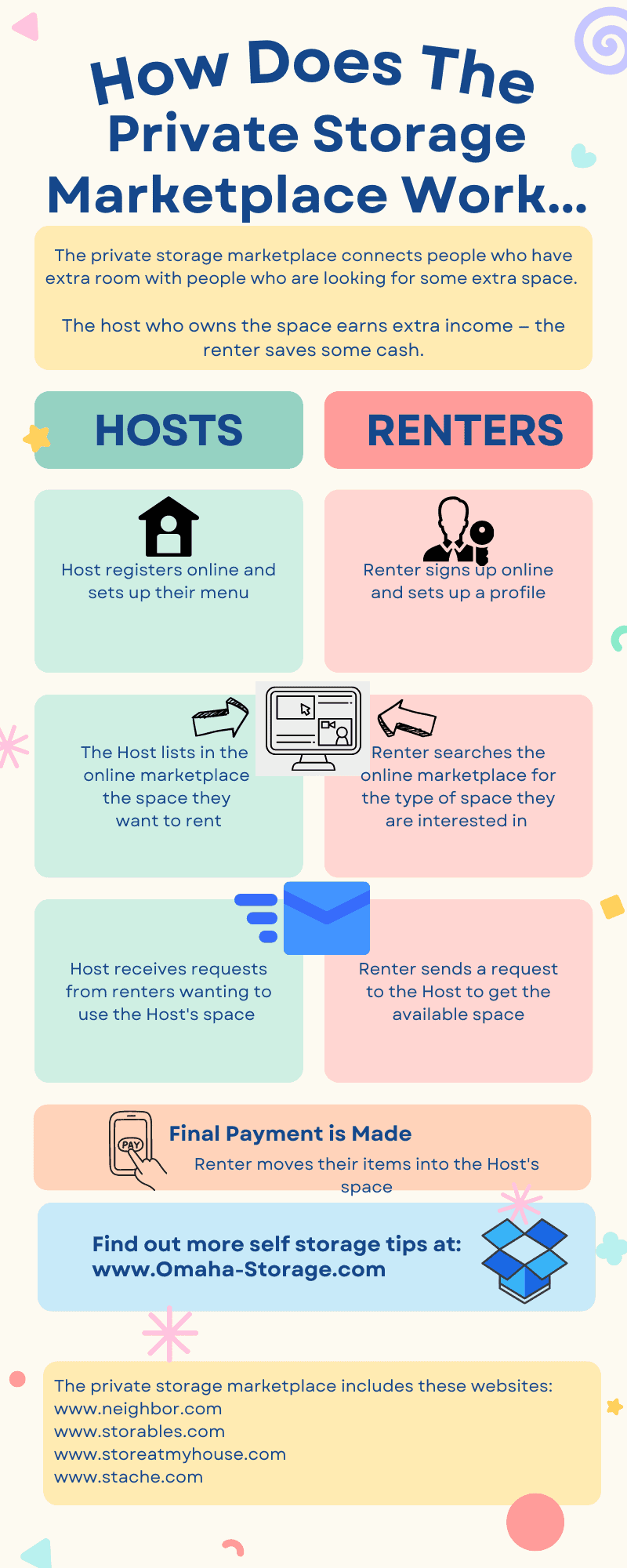 How Do Private Online Storage Marketplaces Work?
At the private storage online website, you can find a space to rent near where you live that meets your needs and budget. The online site allows you to compare locations, price and more.
Then you can message hosts to see about their space availability — and if you want, you could ask to see the space.
Once you've found a suitable location, ask for permission to book it. You won't be billed until the host accepts your request.
Often the price is based on square foot size, not on the number of items you have.
Send an email to your host to set up a drop off time. You can relax knowing that you'll have a safe place to store your things.
Hosts earn extra money while renters get storage space they need.
Benefits for Hosts
Hosts post their available space online and let people contact them directly. Hosts decide who they want to let into their houses.
They don't have to take anyone unless they're sure they won't be a problem for them. List your property and wait for renters to contact you with rental inquiries.
As a host, the extra income could be used to cover part of your house payment or get another car.
There's lots of possibilities as you can use the extra income for anything you want.
The Neighbor program is looking for more hosts and if you'd like to get details about becoming a Neighbor host, click here.
Hosts Set the Rules
As a host you set the rules, you decide who you want, and if you change your mind later on, it's perfectly fine. The host's space is only booked with prior consent.
The thought of renting your house or real estate might not appeal to you. But what about renting out storage spots and unused space?
It could be a driveway for vehicle, boat or rv storage. Or perhaps you have a shed you don't use and could rent out the extra space.
This could generate some easy extra money for you. After all, it's a way to turn an unoccupied room (or land) into an income stream just for being creative.
Some examples of creativity in renting space include renting one slot in a three car garage for someone's vintage car. Or an unused part of a barn.
These can be affordable alternatives to traditional storage and can become an additional source of revenue for you.
Hosts Choose Who to Accept
You can also choose to reject any requests. It's not mandatory to accept all requests.
If you do accept a request, you'll need to provide the renter with access to your home or to the area used for the storage.
This could mean giving them keys and letting them know how much time they should expect to spend at your house. It's kind of like AirBNB except for storage.
If you've got more than one room, you can list each room separately. You can even add pictures and descriptions so potential renters will know exactly what they're getting themselves into.
The Process
As a host, you'll receive an email when someone wants to rent from you. If you accept the request, you'll agree on a price and then both parties sign up for the service.
When the renter arrives, you'll need to check them out. Make sure they have ID and that they're not going to cause damage to your stuff.
Once everything looks good, you'll need to give them the key to your storage unit. You'll also need to make sure they understand the terms of the agreement.
When the renter leaves, you'll need to clean up after them. You'll need to empty trash cans, wash windows, mop floors, etc.
This is a great way to earn money while saving money by renting out unused space.
Benefits for Renters
The premise behind these storage unit alternatives is that renters can find lower costs for storing their personal property than they would by renting at a commercial facility.
So instead of paying high monthly rates for a storage unit at a retail facility, renters may be able to rent a private space from an individual for less money.
Renters can search for locations nearby, and they can often save money by finding a location close to where they live.
Renters are likely to pay less because they aren't paying for utilities, insurance, security, maintenance, etc.
They also benefit from having a secure place to store things without worrying about theft or vandalism.
In addition, renters can keep their belongings safe from fire, flood, and other disasters.
Once a suitable space is found, renters pay through the online site and there are no hidden costs. The renter agrees on a price with a host and then both parties sign up for the service.
The Neighbor program has storage space available for renters to use.
For details and to find a space, click here and then select "Find Storage."
How Much Can I Earn as a Private Storage Host?
The amount of money you can earn depends on many factors including:
• How big your space is
• What type of storage space you offer (i.e., you get more for air conditioned space)
• How much space you have available
• Your location
• Whether you charge a fee for people to use your storage
Typically hosts can earn anywhere from $0-$100 per month depending on how active they are in advertising their space.
The Top 5 Private Storage Marketplaces plus More Options
Neighbor.com Neighbor.com is the largest and most trusted online marketplace of private storage spaces. In addition, they offer a mobile app which allows users to search for local storage units.
You might see lots of garage spaces, bedroom suites and even storage units on Neighbor.com. If you live near a university, you might want to consider renting out space in your garage or driveway to students who need extra storage. For details on becoming a Neighbor Host or to Rent nearby space, click here.
Storables.com Storables is another popular website for searching for storage units. They allow users to browse listings based on size, amenities, and proximity to major cities.
Storeatmyhouse.com StoreAtMyHouseoffers the opportunity to rent out storage space from your house, garage, and business. The StoreAtMyHouse website states that storage providers can make from $300 to $2,500 per year depending on location and storage size.
StoreAtMyHouse doesn't offer additional liability insurance to renters or storage providers — if it does become available there will be an additional cost to the landlord.
Peerspace.com Peerspace provides unique meeting rooms, photo shoots, party venues, performance venues, and other types of event spaces. Spaces that tend to do well include industrial, vintage and modern looking — or that could be extraordinary in some way.
You don't need to pay anything to list your extra space on PeerSpace. You can set your prices to whatever you want, such as charging by the hour — and the website says you're covered for up to $1 million of liability.
Many of the spaces look like they are used for special events but there are some listings to indicate longer term use of a space.
Stache.com Stache offers low cost insured storage that could be right around the corner. You could save hundreds each year by storing your stuff yourself, or you could make extra cash renting out your unused space at home.
Facebook or Craigslist You can also try to advertise your extra space yourself. Facebook Marketplace and Craigslist can be good options if you're looking for free space. However, they aren't specifically for storing items, so you may need to look elsewhere.
You don't have any one person to vouch for potential renters, so be extra careful during the interview process.
You should also consider having tenants agree to a rental agreement so that you don't get sued if something goes wrong.
Drawbacks to Private Storage
When considering private storage, there are some potential drawbacks to look at:
1. There are fees to pay for using the listing service. It's not always clear whether the person requesting access has permission to enter your property.
2. It might not be possible for renters to book multiple rooms at once at an online website.
3. For hosts you have strangers on the property who can see your belongings. They might want to take advantage of you.
4. Storing other people's personal property or business items on your premises increases the chance that your place could become a target for thieves. You may need to get extra insurance coverage to protect your property and your tenants' property. It's best to talk to your insurance agent about that.
5. If you have tenants who don't pay the rent on time or if their property is stolen, then using a third party service might protect yourself from these issues. But it is wise to make sure you have extra insurance coverage for just in case.
6. For renters, you should not expect 24-hour access or any time drive-up access — after all your possessions could be stored at someone's home.
7. Traditional storage facilities offer several storage unit sizes to fit your need. Private storage might not have the exact size you need — causing an overpayment due to choosing a bigger size space seen in the current online private storage inventory.
Private storage is an interesting concept and may be an alternative to traditional storage options. With this method, you don't have to worry about finding a place for your belongings.
All that's needed is a spot where people can store their things.
However a traditional storage business has several advantages, such as drive up access and several storage sizes to pick from.
Frequently Asked Questions about Private Storage Marketplaces
What are the requirements?
There are no formal training requirements to be a host but you must have a computer and internet connection.
Do I need a license?
No, you do not need a license to operate as a private storage host.
Is my online information secure?
Yes, usually your personal information is kept confidential. Check the website to see that transactions are handled securely using SSL encryption technology.
Can I use my own name as a host?
Yes, you may use your own name.
How many hours per week do I work as a host?
The amount of time required varies depending on the type of storage space you run. It should be minimal
How much can I earn as a host?
The average annual income could range between $0-$1200
How much does the extra liability insurance cost?
Insurance premiums depend on many factors and it's best to talk to your agent.
How much does advertising cost to promote my space available?
Advertising costs vary depending on the type of advertisement. Some private storage marketplace websites let you list at no charge — and then charge a percentage of the successful sale.