When it comes to moving a home and self storage, moving blankets are a necessity.
A moving blanket is similar to a traditional blanket, but should be made from thicker material and with stronger stitching.
Moving blankets are the key to a fast and safe way to move. We've figured out some of the cheapest and safest methods for using them.
Keep reading to find out.
Moving blankets are sometimes — accurately or inaccurately — referred to as "storage blankets," "furniture blankets," "furniture pads," "moving pads" or "furniture moving pads."
They all have the same goal: protecting your belongings from getting scratched.
In some cases, people find out during their move that these blankets are necessary for a good move — and as important as moving boxes and strong tape. A moving blanket protects your belongings from scratches, dents, and nicks.
You don't have to worry about damaging delicate items during the move. Moving blankets make packing and unpacking easy. No more lifting boxes! Simply roll the blanket around your items and tie it securely.
This articles goes into depth about why moving blankets are important, where to find good deals (sometimes for free) — along with things you might not have even known about moving blankets.
Types of Moving Blankets
A moving blanket is a large rectangular piece of fabric or plastic that can be wrapped around furniture and other items in order to protect them from scratches and dents while being moved. They're also used to cushion fragile objects like glassware and china.
Sometimes they can help prevent larger scratches during the course of a move.
Moving blankets are made of various materials including polyester, nylon, microfiber, and cotton. Each type offers its own benefits.
The most common type of moving blanket is made of heavy-duty nylon or polyester material. These materials are durable enough to withstand repeated use, but they don't absorb moisture well. Moisture can cause mold growth on the surface of the blanket.
Polyester moving blankets are durable and easy to clean. These blankets are made from 100% polyester yarns. They resist stains well. Polyester moving blankets also tend to be more affordable than other types of moving blankets. These moving blankets can be machine washed but not tumble-dried.
Nylon moving blankets are strong, sturdy and resistant to tearing. They're also stain-resistant and last a long time. However, they don't hold their shape as well as other types of moving blankets. They are also more expensive than cotton moving blankets because they cost more to make.
Microfiber moving blankets are soft and absorbent. They're great for delicate items such as china, crystal, silverware, and jewelry.
Cotton moving blankets. These are often used by movers who want to keep costs low. Cotton moving blankets are breathable and comfortable. They are typically much softer than polyester moving blankets. They're also lightweight and easy to care for.
Cotton moving blankets can be machine-washed and tumble-dried. However, cotton moving blankets don't last as long as polyester moving blankets.
When choosing the type of moving blanket you want, consider which type of surface you want to protect.
A soft, smooth surface such as carpeting or wood floors is ideal for a cotton moving blanket. A rough surface such as concrete or tile needs a polyester moving blanket.
PRO TIP

A single $15 moving blanket could save you hundreds — maybe even thousands — of dollars in damage. Just imagine your flat-screen TV getting hit by the side of the dining room table. A blanket could brace that impact.

 
How to Use Moving Blankets
There's no right or wrong way to wrap your belongings with a moving blanket. The best thing to do is experiment until you figure out what works best for you.
Here are some tips to help you decide how to use a moving blanket:
1. Wrap your item first. This helps ensure that it doesn't fall off the blanket when you start wrapping.
2. Start at one end of the item and work toward the opposite end. You'll need to wrap each side separately.
3. Make sure the item is completely covered before wrapping any additional sides. If an area isn't fully protected, it may become damaged later.
4. When you reach the end of the item, fold over the excess material so it covers the entire item.
5. Secure the ends of the blanket with tape or rope or bungee. Tape is usually better because it's easier to remove if needed.
6. Once you're done wrapping, secure the blanket with tape or ropes.
7. Place the blanket inside a box or bag. It should fit snugly without leaving gaps.
8. Label the outside of the box or bag with the contents' name and give the box (or bag) a number. This number will come in handy if you plan to place the box or bag into a storage unit.
9. Store the box or bag in a safe place until you're ready to unpack it.
10. Remove the blanket once you've unpacked everything.
11. Wash the blanket after every use .
12. Don't throw away old blankets. Instead… donate them to Goodwill or another charity. Or you could give them to the next person you know who has a move coming up.
13. Keep a few extra blankets handy just in case something happens along the way.
14. Remember to wash your hands after handling a moving blanket.
Here's a creative use for a moving blanket:
 

View this post on Instagram

 
Using Two Moving Blankets to Overlap Large Items
Secure the top of the object you're planning on protecting. If the cargo you're anticipating moving is large enough, it's likely that two moving blankets will be sufficient for your needs.
You can do this easily by putting one moving blanket on the object and then using elastic bands or bungees to secure the first cover.
If possible, turn the item upside down so that the other side is facing up. Repeat the above steps in the same sequence. This willsecure your item from both sides with the moving blanket covers.
The outer fabric of the blanket can protect the edges of the cargo — and help prevent scratching with the overlapping coverage.
Moving blankets are made to transport and protect whatever objects they cover large or small.
How Large is a Moving Blanket?
The size of a moving blanket depends on the weight of the items being moved. Most moving blankets measure about 36″ x 60″. Some people prefer smaller sizes while others like bigger ones.
If you need something larger, there are premium quality 80" x 72" heavy duty blankets available. They are durable and protect against scratching, nicks, dirt, and moisture. They're perfect for protecting expensive belongings when you move them.
In addition, there are different thicknesses available. For example, a thicker moving blanket might be able to withstand heavier items.
Moving Blankets Can Help With…
Dust and Moisture
Moving blankets are a great way to keep dust and dirt from getting into your furniture, a desk, your piano, electronics and more.
They also offer protection from things that are in your other boxes. You may not be concerned about a barbeque getting scratched up, but that grill might rub up and damage what's packed next to it.
Even dust mites. Dust mites thrive in warm, moist environments. Moisture can cause dust mites to multiply rapidly. Dust mites also love dark places where they can hide from light.
Moving blankets keep your home clean and dry. Surprisingly, they prevent dust mites from settling on furniture, carpeting, walls, and other surfaces. As a result, they might help reduce the risk of allergies and asthma attacks by preventing this dust mite buildup.
A moving blanket also helps protect your belongings from damage caused by water. Water can ruin clothing, electronics, and other valuable possessions.
It keeps your things clean and dry. You won't have to worry about mold growing on your belongings. Mold grows best in damp conditions.
Preventing Transportation Damage
Moving blankets provide protection against transportation damage. If you pack fragile items such as glassware, china, crystal, artwork, etc., then you'll want to wrap them in bubble wrap or some type of protective material.
But what do you do with all those other items?
You can put them in a plastic trash bag or cardboard box. However, these materials don't offer much protection against sharp objects or rough handling.
You should consider using a moving blanket instead. It's made of thick, sturdy fabric that will protect your belongings from damage during transport.
Protection Against Scratches
Scratching is one of the most common problems associated with moving. The problem starts before you even start packing.
When you unpack, you'll find that many of your belongings are scratched up. This is because they were exposed to dust and dirt while stored in their previous location.
Moving blankets will protect your belongings from scratches.
Protection of Furniture
Furniture is another area where moving blankets come in handy. They protect your furniture from dents and scrapes. They also protect your furniture from stains and odors.
When you pack your furniture, make sure you use a mattress pad. These pads are designed to absorb moisture and prevent it from seeping through the padding and damaging the mattress itself.
If you're going to move heavy furniture, you'll need to take extra precautions. Use two people when lifting and carrying. And if possible, hire movers who specialize in moving heavy furniture.
Safety
The last thing you want to happen is for something to fall off the truck and injure someone. That's why you should always wear safety glasses and ear plugs while loading and unloading your belongings.
And remember to check your belongings every day after unpacking. Make sure nothing was damaged during transit.
How To Choose A Good Moving Blanket
There are several different types of moving blankets available. Some are more durable than others. Others are better at keeping out dust mites. Still others are easier to fold and store.
Here are some factors to consider when choosing a good moving blanket:
Durability
How long will this moving blanket last? Will it be able to withstand repeated washings?
Ease Of Storage
Is there enough room inside the storage container for this moving blanket? Can you easily fold it into a compact package?
Size
What size moving blanket will work best for you? Do you need a large one or a small one?
Price
How much does this moving blanket cost? Ask yourself… are there any discounts available… A pack of 12 moving blankets could easily cost over $200 so you want to make sure to get good quality blankets. If your budget is tight, there's some more tips below to save some money.
The Difference between a Moving Blanket and a Moving Pad
A moving blanket and a moving pad (or furniture pad) are both protective coverings used during a moving to protect furniture (and other items) from scratches, dings and other damage.
Moving blankets are usually thicker and offer more protection than moving pads — but moving pads are more portable and easier to handle.
The main difference between the two is the material they are made of and the level of protection provided.
A moving blanket is typically made of thick, durable material such as cotton or polyester and can provide a high level of protection for furniture and other items being moved. They're often used to wrap larger items like sofas, armoires, mirrors and dining tables.
A moving pad is a thinner, light-weight option made of materials such as quilted cotton or foam. They're often used to cover the smaller items like lamps, chairs and dressers.
They're not as protective as a moving blanket but can be more portable and easy to handle.
Finding Moving Blankets
You can find these blankets online or at home improvement stores. However, they aren't cheap. Expect to pay between $20-$40 per moving blanket depending on the brand and size.
This means that you could spend $200 (and up) just on moving blankets to move a home.
Some companies offer discounts if you buy multiple blankets at once. Check around and see what deals you can get.
When shopping for a moving blanket, make sure it fits all of the items you want to protect. Also, look for a warranty. Many brands provide warranties on their products.
Moving blankets are an excellent way to protect your belongings during a move. You can choose between different styles and sizes to fit your needs.
Here are some of the top moving blankets on the market today:
Places that Sell (or Rent) Moving Blankets and Furniture Pads
1. UHaul
UHaul moving blankets are great for protecting delicate items like fine art, jewelry, and antiques. It comes in three sizes and is easy to fold and store. It has a waterproof backing so you don't have to worry about water getting inside.
It's a popular choice among professional movers. It's made of high quality materials and is very durable. The fabric is stain resistant and won't fade over time.
They have another moving blanket that is perfect for protecting clothing and linens. It's made with soft microfiber material and folds flat for easy storage. It's also machine washable and drys quickly.
To save money, UHaul might rent you the moving blankets and you just return them when you're done.
UHaul's competitors, Budget Trucks and Penske might also rent moving blankets.
2. Lodi Metals
Lodi Metals is a top supplier of where to buy Moving Blankets in the country. Many people have not heard of them. If you're looking for USA made moving blankets, cheap cargo blankets, or to supply a moving fleet with moving blankets — they can help you. They offer moving blankets for all budgets and all needs. If you want one moving blanket or a pack of 4 or twelve blankets — they can help.Their phone number is 800-807-5634
3. Home Depot
Home Depot has quality moving blankets. You can buy online or pick up in the store. They also offer free shipping on some of the moving blankets.
4. Lowe's
Lowe's offers many types of moving blankets. Their moving blankets come in several sizes and colors. They also have a variety of accessories such as plastic bags, bubble wrap, and packing tape.
5. Target
Target sells affordable moving blankets. They have a wide selection of colors and sizes. If the discount code is still active when you read this, you can use "TARGET10" to receive 10% off your order.
6. Walmart
Walmart has twelve packs of the 54 inch by 72 inch pads at a competitive price. Walmart has a wide selection of moving blankets. You can purchase them online or in the store. Some of the moving blankets are made from recycled plastic bottles.
7. Costco
Costco sells moving blankets in bulk. They have everything from small travel sized blankets to big ones that can cover the back of a pickup truck. They also have a good selection of other supplies like boxes and bubble wrap.
8. Bed Bath & Beyond
Bed Bath & Beyond carries a variety of products to help with a move including the softer blankets used to move delicate and smaller belongings.
9. Amazon
Amazon has a huge selection of moving blankets. There are many options including color, style, and size.They have a variety for every budget and need.
10. Full Service Movers
Full-Service movers in your area often provide moving blankets.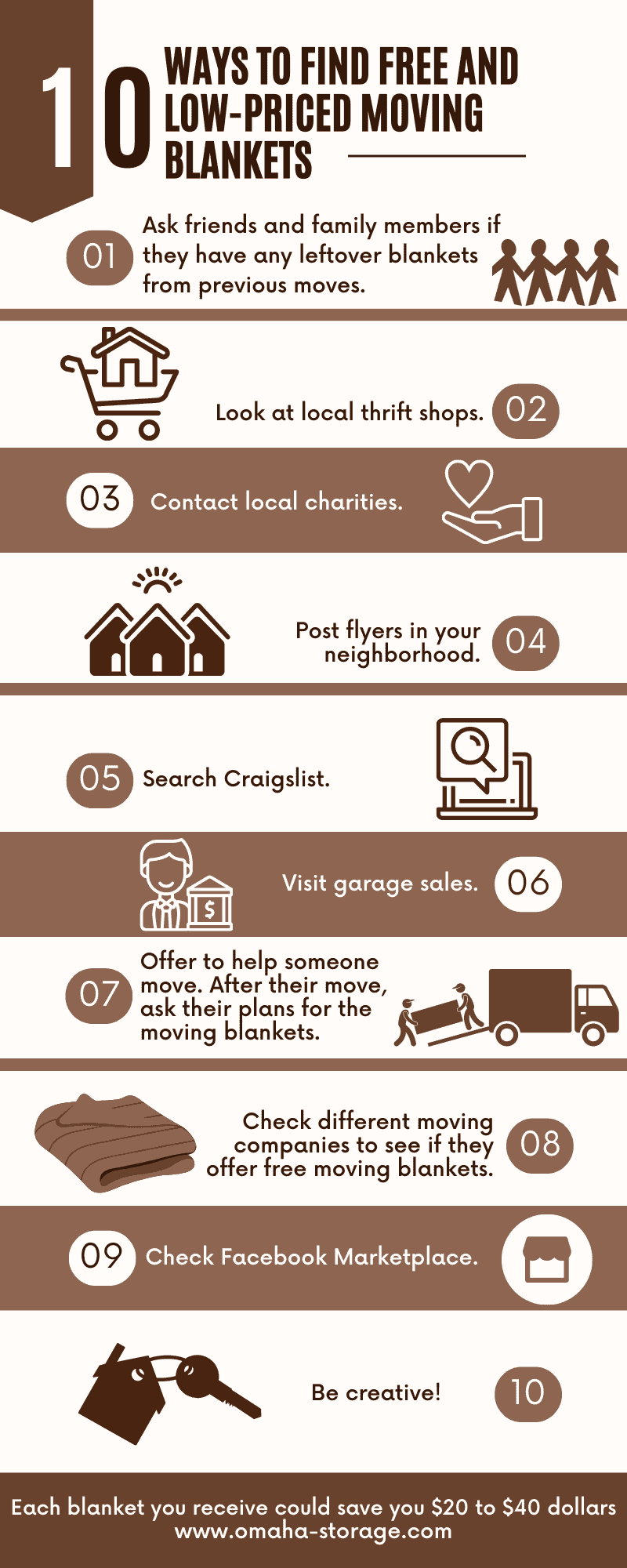 9 Ways to Find Free and Low-Priced Storage Blankets plus One Bonus Way
Where to Find Free and Low-Priced Moving Blankets
There are many ways to get free moving blankets. It can take a little time to track them down, but it's worth saving $200 or more.
Here's some places to check:
1. Ask friends and family members if they have any leftover blankets from previous moves.
2. Look at local thrift shops. Often you can find these on the shelves at the back wall for a really good price.
3. Contact local charities.
4. Post flyers in your neighborhood.
5. Search Craigslist. Someone might just be looking to give away moving blankets as a way to do a good turn for a stranger.
6. Visit garage sales. Turns out that just about everyone has a moving blanket or two inside their garage. It's almost funny that way. People overlook them but if you ask at a garage sale if they having any moving blankets for sale, many people will say, "hold on" and find you a blanket they'll sell you for cheap.
7. Offer to help someone else move. This could be someone new moving into your neighborhood. Afterwards… ask them their plans for the moving blankets and moving boxes.
8. Check different moving companies to see if they offer free moving blankets.
9. Check Facebook Marketplace.
10. Be creative!
I know what you might be thinking… it's not really free if you have to spend time chasing down blankets.
Your time is very valuable and when moving you don't have a lot of extra time available.
However, considering that each blanket could be worth $20 to $40 dollars, if you get 5 free blankets from just one of these ideas and it took you an hour — that could be a $200 savings for the hour spent.
Where to Find Moving Blankets to Rent
A moving blanket is just as important to a major move as are trucks and packing supplies — but most people don't use them for long enough to justify shelling out over $200 dollars.
Add to the fact that many people give their blankets away after completing a move because the blankets still look brand new and there's nothing else to do with them.
If you want to save money while making sure your belongings stay safe, consider renting moving blankets.
Renting moving blankets instead of buying them may be a suitable option if you're working on a tight budget.
Think about this… If you buy your own moving blankets, you may have to pay for shipping, storage, and disposal fees once the blankets eventually get worn out.
Renting makes more sense financially because you won't incur nearly as many of these costs.
The cost of renting moving blankets will vary depending on how much time you need the blankets for.
As an example, if you plan on using your moving blankets for only a few days, you'll probably end up paying less per day than someone who needs his or her moving blankets for weeks.
Moving blankets are available at many local moving companies. Some may even include moving blankets for free with a truck rental – if you ask them.
You can also look online for moving blankets that are rented by the hour. Some websites offer discounts for renting multiple hours of service in advance.
Here's a list of reliable places where you can rent moving blankets and furniture pads:
UHaul
Some UHaul locations offer moving blanket rentals. Some also offer a discount on blankets if you rent a truck from them. You might want to look at their lower priced furniture pads also.
Home Depot
Many Home Depot locations offer a variety of rentals to help with your move. Check your local Home Depot for recommendations on what you can rent and if they have blankets available for rent.
Each store has different availability and often the larger Home Depots have expanded services.
Penske Truck Rental
Besides having moving trucks available, you can add furniture pads rentals to your reservation and then pick them up when you get your truck. The furniture pad rentals are only available to those who rent a truck.
Budget Moving Trucks
Similar to Penske above, you can add furniture pads rentals to your Budget Truck reservation and then pick them up when you get your truck. The furniture pad rentals are only available to those who rent a truck and come in a pack of twelve for the rental.
If you do decide to rent moving blankets, make sure you know what kind of care you should use to clean them. Fortunately, many moving blankets come with instructions about cleaning and storing properly.
It's a good idea to read those instructions before using your moving blankets.
You'll want to return the blankets in the same general condition as when you first rented — that way there's no extra damage charges assessed.
How to Wrap a Couch with a Moving Blanket
You can protect a couch from damage by using furniture pads or a stretch wrap, depending on the couch's fabric type. Start by removing any blankets and throw pillows and packing those separately in a bag or small box. Then remove the legs and detach any arms — if necessary.
The Amount of Blankets Needed for Moving a House
A good rule of thumb is to start with around 11 to 12 blankets per bedroom. If that seems like a lot, you could look at having one blanket for every 5 square feet of space inside your moving truck.
Alternatives to what can I use instead of moving blankets?
If you're looking for alternatives to moving blankets for protecting your furniture and other items during a move, there are several options worth considering.
Bubble wrap or packing paper are great options for wrapping delicate items like glassware or electronics.
If you don't have access to those, you can use old towels, sheets, or blankets that you no longer need. These items can provide some cushioning and protection during transport.
In my last move, in addition to the moving blankets I had, we used some old towels and sheets along with worn blankets as it turned out we had more stuff to move than I initially planned on. Everything turned out well.
You can also purchase specialized padding materials such as foam sheets, packing peanuts or corrugated cardboard to use as extra protection.
It's important to ensure that everything is secured properly to prevent any damage during the move.
Frequently Asked Questions
How do You Clean Moving Blankets?
You could wash your thinner reusable blankets by hand if you wanted to. However, most people will opt to throw them in the washing machine on cold cycle — if the blankets are thin and the label says that they are machine washable.
You need to avoid the dryer and go with line dry instead.
If the blankets are not machine washable, you'll need to have a professional clean them.
What Should I do with my Old Blankets After Moving?
If you're going to donate them to charity, make sure to check out what type of organization accepts blankets. Many organizations only accept blankets that were purchased through them.
Or… you could give them to someone else that is getting ready to move. That would start the cycle of giving with someone new.
Can I Reuse My Blankets?
Yes, but you'll want to wash them first.
Is There Anything Special About Moving Blankets?
Yes, they come in handy during a move and are more durable than regular blankets.
Do I Have to Buy Moving Blankets?
No, it's up to you. Some people can use whatever blankets they already own. Although home blankets might not be as sturdy.
Can I Sleep Using a Moving Blanket for Warmth?
A moving blanket can also provide an extra layer of warmth on a cold night. Whether you are trying to keep warm during an outside event, looking for warmth huddled up on the sofa during a binge watch, or as a blanket on the bed to help keep heat in and the cold out, a moving blanket can do the trick.
Where can I get cheap moving blankets?
There are several places to get cheap moving blankets, including:
Online retailers: Online retailers such as Amazon, Walmart, and U-Haul offer a variety of moving blankets at competitive prices. Check the customer reviews and ratings to find the best deals on quality moving blankets.
Local moving companies: Some local moving companies may sell or rent out their used moving blankets at a discounted price. Call moving companies in your area to see if they offer this option.
Home improvement stores: The standard home improvement stores like Home Depot, Lowe's, Ace-True Value, Harbor Freight and Menards offer moving blankets and other moving supplies at affordable prices.You might also find discounts or promotions on moving blankets by signing up for the store's email list or loyalty program.
Rental companies: Rental companies such as Rent-A-Center or Rent-A-Crate may offer moving blankets for rent at a lower cost than purchasing them outright.
Secondhand stores: Check local secondhand stores or thrift shops (such as Goodwill and Deseret Industries) for used moving blankets at discounted prices. These blankets may not be as high-quality as brand new ones, they probably didn't get used much and can be a good option for a tight budget.
Since the cost of moving blankets can add up quickly, remember to compare prices and quality before making a decision. This will ensure you get the best deal on moving blankets for protecting your belongings during a move.
Where can I rent moving blankets?
You can rent moving blankets from several places, including:
U-Haul: U-Haul offers moving blankets for rent at many of its locations across the US. You can check availability and reserve online, and the blankets can be picked up or delivered.
Budget Truck Rental: Budget Truck Rental offers moving blankets for rent at many of its locations across the US. Usually the rental blankets are only available for those who rent one of their trucks. You can reserve blankets when you make your truck rental reservation.
Penske Truck Rental: Penske Truck Rental offers moving blankets for rent at its locations across the US. Similar to Budget Truck Rental, the rental blankets are only available for those who rent one of their trucks. You can reserve blankets when you make your truck rental reservation.
Home Depot: Some Home Depot locations offer moving blankets for rent. It's an easy way to go. Check with your local store to see if they have them available and what the rental cost is.
Local equipment rental companies: Check with local equipment rental companies to see if they offer moving blankets for rent.
Before renting moving blankets, make sure to check the rental cost, deposit requirements and the rental period.
It's a good idea to inspect the blankets for any damage or stains before renting them — and to then return them in the same condition to avoid additional fees or charges.
Can I Use Bubble Wrap and Plastic Sheeting Instead of a Moving Blanket
You can substitute something else for a moving blanket. A thick towel or bedsheet should work just fine, or even packing wrap or packing paper.
Bubble wrap and plastic sheeting are two of the best tools at your disposal when it comes to safely moving your furniture. Use bubble wrap to protect delicate pieces and to protect upholstered items.
Do Moving Blankets have Fiberglass?
Some have an inner layer of fiberglass batting insulation. Others may have recycled plastics and nylon.
When Should I Start Packing?
You should start packing for your move at least 3 weeks prior to your anticipated move date. The actual moving preparation process should start at least 6-8 weeks before your move. The earlier you start the packing process, the easier it will be when your move date approaches.
Are Moving Blankets Waterproof?
Moving blankets are typically made of polyester or cotton material.
The cotton ones are usually not waterproof. If a cotton moving blanket gets wet, it needs to dry thoroughly before being stored. 
Some moving blankets are treated with water repellent coating. For example, when the cotton is blended with a water-resistant material like polyester, these blankets can repel light amounts of water and keep the water from absorbing into the blanket.
This helps prevent moisture from getting into the blanket and causing mildew.
Are Moving Blankets Stain Resistant?
Some moving blankets are treated with a stain resistant coating. These types of blankets are often made of 100% cotton and are ideal for those who plan to pack their blankets inside a suitcase.
How Easy is it to Rent a Moving Blanket?
It's very easy to do. UHaul, Budget Trucks and Penske often rent moving blankets when you get one of their trucks. Its super simple to reserve one of their trucks online — and they don't charge a fee if you cancel up to the day before the reservation time.
With the online truck reservation, you can add other moving supplies to your cart on checkout. You can also call one other their reps and they make it easy to reserve everything you need.
I would like to know how to store moving blankets
To store moving blankets, you should first make sure that they are clean and dry to prevent mold or mildew from forming.
Once they are clean, fold the blankets neatly and store them in a dry and cool area, such as a closet or a storage bin. (That's how to fold blankets for storage.)
To prevent the blankets from getting damaged, you can wrap them in plastic or cover them with a sheet or cloth to protect them from dust and dirt. You can also label the storage container or bin with the contents to easily identify the blankets later on.
By properly storing your moving blankets, you can prolong their lifespan and keep them in good condition for your next move.
Can you use regular blankets as moving blankets?
Yes, it's possible to use regular blankets as moving blankets if you are unable to acquire or afford specialized moving blankets. However, it's essential to know that regular blankets may not provide the same level of protection as moving blankets, since moving blankets are made to be thicker and more robust.
Using regular blankets may also increase the possibility of damage to your belongings during transport since they might not be as effective in preventing scratches, dents or other damage.
If you do use common household blankets, make sure to wrap your items tightly and use additional padding if possible.
Why can't you machine wash moving blankets?
Moving blankets are typically constructed from robust materials, such as cotton or polyester, and filled with thick padding to shield furniture and other items while in transit.
These materials can be excessively heavy and dense for most household washing machines, and can even cause damage to the machine. Moreover, the padding inside furniture blankets can clump together during the washing process, resulting in reduced effectiveness and protection.
As a result, it is not recommended to machine wash moving blankets, and alternative cleaning methods should be employed, such as spot cleaning or seeking the services of a professional cleaner.
Some people try to sneak the furniture blankets into a laundromat to use heavy duty machine. If caught, the manager of the laundromat will request that to not wash those in their machines.