You don't have to randomly guess at which size storage unit you need. This handy guide and calculator will help you through the process of determining the correct storage space for your need.
Did the storage calculator results match what you thought?   If the results turned out differently than you expected, the five minutes spent calculating your storage need may have saved you time and money for each month. 
In addition to the storage calculator, to help you get the best sized unit to fit your budget, keep reading…
What Storage Unit Size Is Best?
Selecting the best storage size can be a challenge. It really is an individual matter. This guide can help make that decision easier.
Finding the right storage space for your belongings is one of the most difficult parts of storing your belongings. In this guide we've listed many of the popular sizes available — and what kind of (and how many) items they can hold.
Putting a list together of everything you want to place into your storage unit can help. Partly to organize how you will store the items — along with visualizing if your items will fit into a small, medium or large storage container.
Then use our simple self storage calculator. It's an easy way to quickly size up different types of units for storing things like clothes, books, and furniture.
The average person needs about 3 square feet per item stored. If you have a lot of stuff, that number can go down.
If you are looking at moving into a new home or apartment, you may want to consider renting a storage unit before buying a house as a way of seeing how much home space you might really need. 
To determine which size storage unit is right for you, complete these four simple steps:
Step One: Make a quick list for things you want to pack into boxes. Include furniture, appliances, and anything else that won't fit inside boxes.
Step Two: Estimate the number of boxes you'll need.
Step Three: After assessing the options below, choose the one that best suits your personal storage needs. It's interesting… as soon as you see what works well in a wide variety of storage units you'll have a good idea of what you want. You'll also get some great new ideas for packing up for your storage unit.
Step Four: Keep reading below for storage size tips and suggestions. If you're still not sure how much space you'll need, you can try the new storage space calculator.  
For a two bedroom home, see our guide here.
For a three bedroom home, see our guide here. 
The best storage rates are often kept secret. Even though many storage spaces are sold out right now, you can still locate a good space nearby with one phone call.
Call now to get an estimate and reserve your space — all within 5 minutes. To serve you quicker, call wait time is near zero. 
Call anytime and start saving.
Tap here:
877-908-1466
And if you're moving out of town, calling the sales team today can help you find reasonable storage in many different cities. 
What Size Do You Need?
This short video can help to picture the different storage unit sizes.
Common Storage Unit Sizes
The most common sizes are: 5×5 , 5×10 , 5×15 , 10×10 , 10×15 , 10×20 , 10×25 , 10×30. There are larger sizes available although those larger sizes can be harder to find. 
How Tall are Storage Units?
Storage units are usually between eight and ten feet high inside. Some storage facilities have 10-foot ceilings to accommodate unusual storage needs. In large cities like New York, to reduce the cost to consumers there's these new reduced-height storage units where they stack more units in the same facility. It gives the renters the same square footage floor space but for a lower cost.
What is the Difference Between Indoor and Outdoor Storage Units?
Indoor storage units (also call interior units) offer added security and peace of mind. You'll keep your stuff safe and protected from the elements, and it'll be stored in a secure location.
Characterized by indoor hallways, reaching your unit is quick and convenient. Indoor units are best suited for storing items when you thinking for an extended period of time. Some indoor units include climate control options which makes it more comfortable when you're moving things around.
Can My Storage Unit Be Used for a Workshop…
You can't use your storage space as a workshop. Sorry about that. If you need space for a workshop, you might have luck on the private storage marketplaces.
Some storage centers may allow you to store products (similar to a warehouse) in a storage unit, but workshops where people are coming and going is not a good idea.
It depends on the company and which kind of unit. If you're running a business from a personal storage unit, you probably won't be able to operate it successfully; however, if you're operating a business from a commercial storage unit, you might be able to do so with permission.
You may be able to use storage facilities as warehouses for storing your products, but you won't be able to sell directly to walk in consumers at the unit location. It's a long way of saying it, but no, you can't use a storage unit as a shop.
What Storage Unit Size Will Work for Me?
If you don't know what storage unit size you need, you might be tempted to postpone getting one. We've found that if you wait too long to decide, the size you need might not be ready in time.
We recommend reserving one at no cost — and make a plan of when you want to move in. This guide can help you through the decision process.
A typical small storage unit measures approximately 5 feet by 5 feet, making them roughly the size of a large walk-in wardrobe. And this size is extremely affordable.
If you're looking to store personal or business items, understanding and visualizing how much space this is can help determine whether the 5×5 is the right storage solution for you.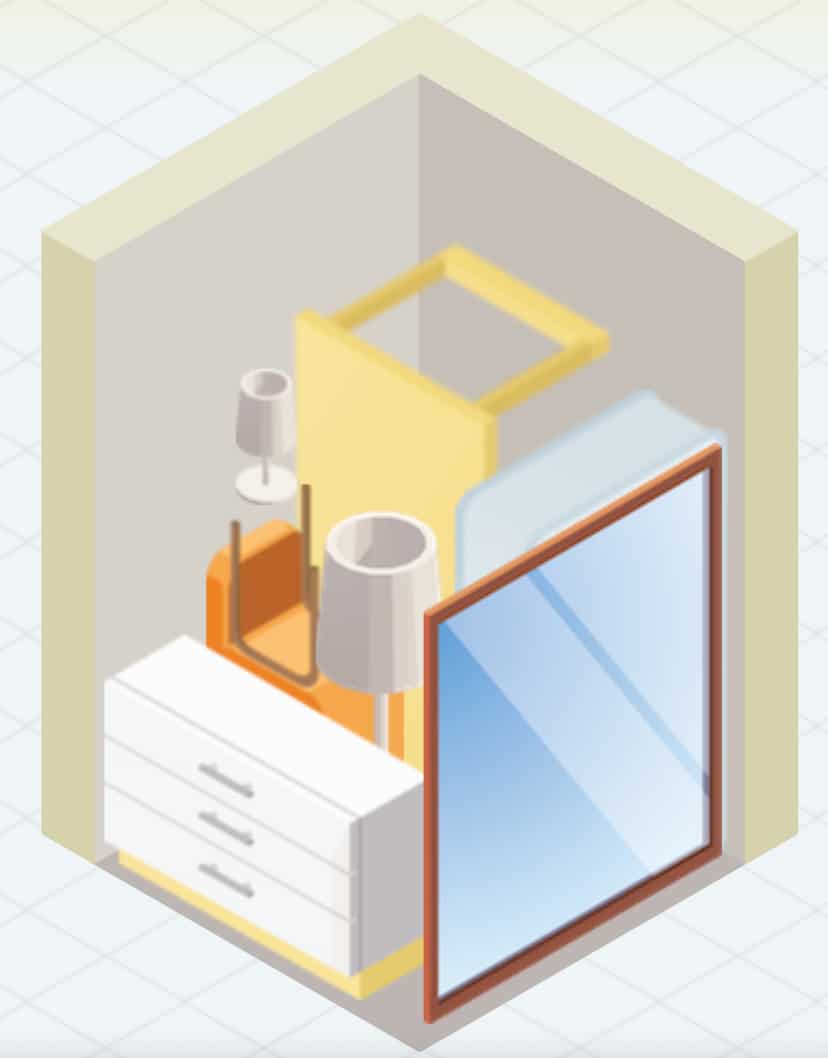 The 5 by 5 storage unit is typically the minimum storage unit size.
Compared to a closet, this storage unit is ideal for customers who have run out of storage room at home and need some extra space for their things. 5×5 storage spaces fit into the small storage unit category and provide customers a little extra space to store their belongings.
Once you know what fits into a 5×5 unit, it becomes easier to imagine what can fit into the larger units.
Items that can fit into a 5×5 space may include:
Twin Mattress Small household furniture Seasonal Clothing Sporting Equipment/Gear Books and Documents Business Inventory File Boxes
Twin and Full mattresses will fit in a 5×5 unit.
Love seats might fit, but couches and sectionals are unlikely to fit.
Tables that are small or medium sized are likely to fit.
Things like night stands, desks, chairs, hope chests and end tables should fit.
Popular Uses for a 5×5 Storage Unit
Declutter a room or an entire house
Clutter is sneaky; it sneaks into our lives over time. Before long, there isn't any room left to store everything, and finding where things are becomes difficult and time consuming. It might be hard work, but decluttering can be liberating and even therapeutic. You could even have a declutter party on an afternoon and treat yourself to a nice dinner afterwards.
Most people struggle with the task of decluttering because they don't want to throw away things that might prove useful someday.
Giving away, selling, or disposing of something can be too hard to deal with… especially if it's because of memories, although sometimes it's because family members expect us to be the keeper of the family antiques.
If you want to declutter but don't want to part with items you might need someday, consider renting a 5×5 storage unit.
If your closet is full of clothes you don't wear anymore, you could rent a 5×5 storage unit to hold them for when you need them again.
Sports equipment is used infrequently and often depending on the season. Storing your sports items in 5×5 storage units allows you to access them whenever you want.
If you feel there's clutter at home, you're not alone. In fact, it's totally normal. It may be time to take that stand and say, "I'm getting my house back."
You can even get the smallest storage unit and test out what it feels like to offload those things you seldom need. It can be liberating!
A Place to Store Things Between Semesters
Students who go away for college usually face a dilemma of where to store their belongings during the semester break. It makes no sense to carry a dorm full of belongings from one room to another. Or from one state to another.
The best solution for this problem is a 5×5 storage unit. It's neither too big nor too small; just roomy enough for a college student's most treasured belongings.
Often you can find specials on the first month's rent, especially during summertime — which could end up saving you some money.
If you think you'll need one, get it sooner rather than later. If you wait too long, all the 5×5 storage units might be gone. Then you'd be forced into a size that's larger than what you really want.
A Place for Family Heirlooms
Over time, you might collect some important items from relatives, acquaintances, or friends — things like photos, letters, and so forth. You might not actually use these things every day, but you can't entertain the thought of getting rid of something so valuable just because they're old.
These things are extremely valuable and the family might be counting on you to hold onto them, almost like a museum. But they're taking too much space in your home — leaving no room for the stuff you need.
That's where a 5×5 unit can take the burden off your hands. You might not need the heirlooms right away, but a five by five storage unit can be a secure cost-effective place to store them until you do.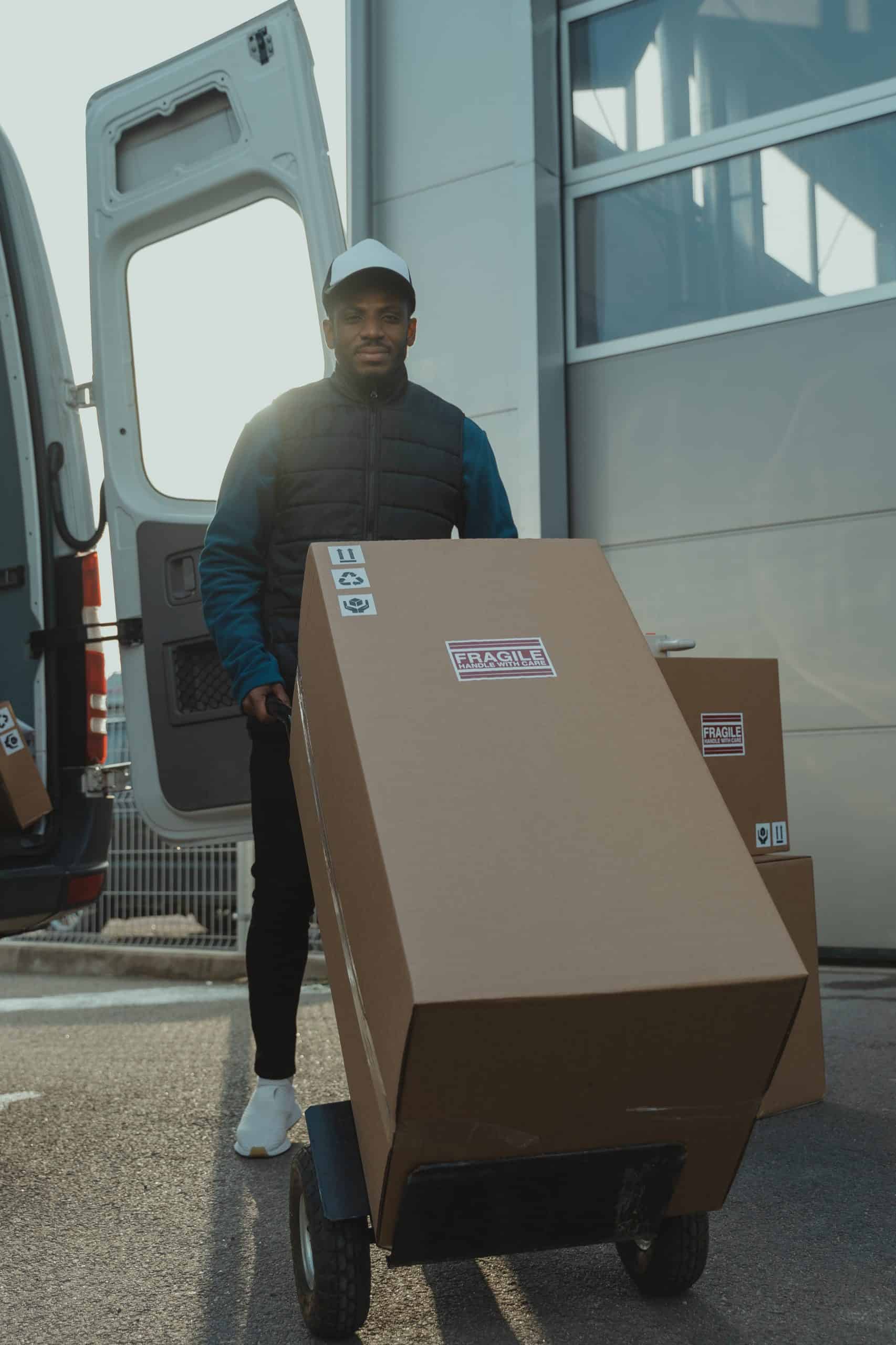 What Size Moving Truck do I Need for a 5×5 Storage Unit?
For larger sizes (5×5 and up), we recommend using a moving van or pickup truck for transporting large items. You can also use a 4′ x 8′ or 5′ x 8′ cargo trailer.
Moving trucks come in different shapes and sizes. The biggest difference between a moving truck and a moving van is the height of the bed. A moving truck has a higher bed, which often means it can accommodate taller items. You'll have to decide how tall of a 5×5 storage unit to get, before deciding on the type of moving truck you need. When choosing a moving truck, make sure that it's capable of carrying the weight of your items. Most moving companies charge extra if you ask them to transport a heavy item. So, you should always check the specs of the vehicle you choose before making any final decisions.  
The Most Popular Size for a Storage Unit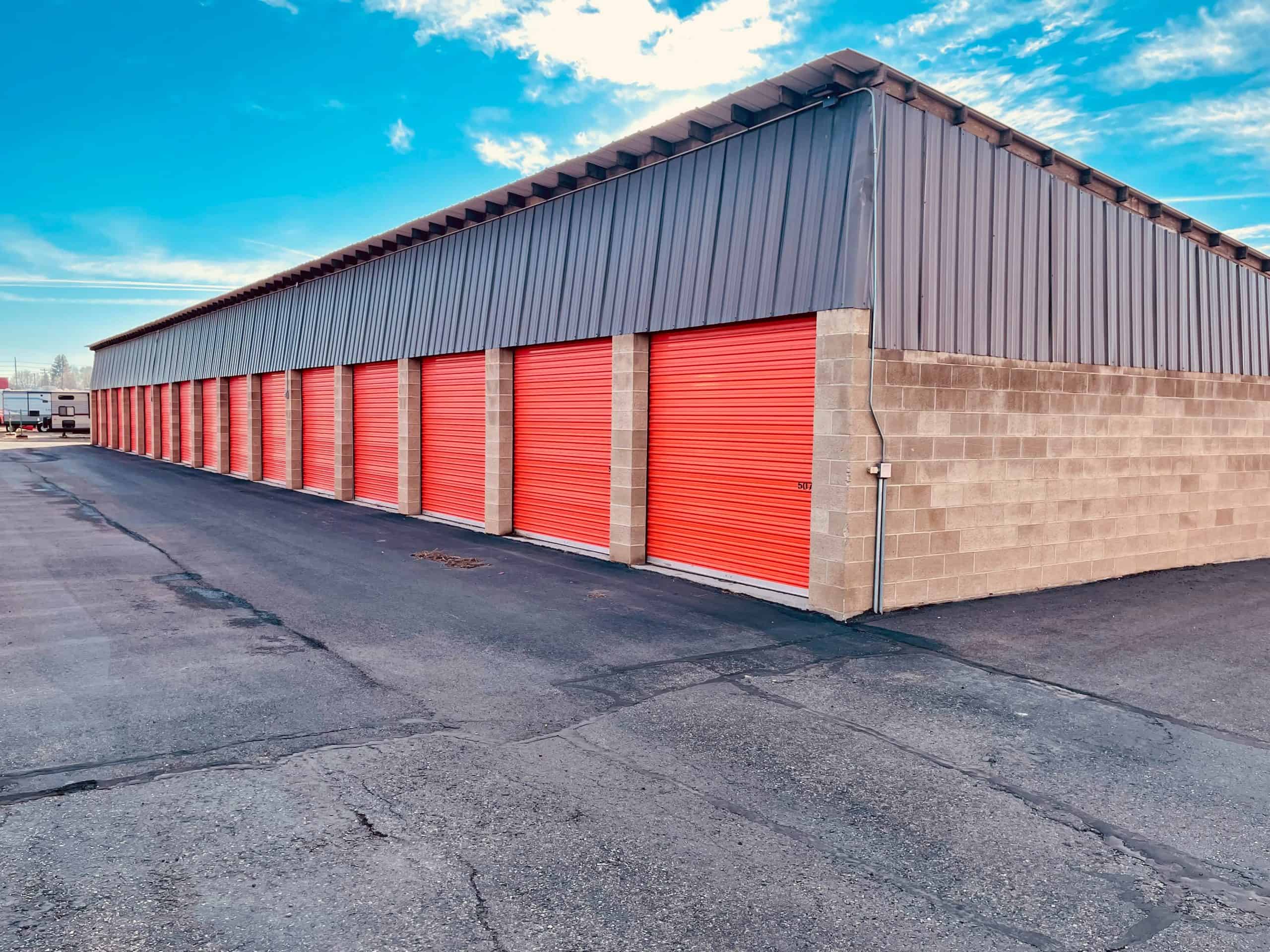 10×10 Storage Unit
The 10×10 unit is generally the most common storage unit size. It's basically a small room that can hold the average contents of a 2 bedroom apartment.
What size storage unit is a 10×10? It's half the size of a standard one-car garage. The 10×10 storage units offer 100 square feet floor space and around 800-1000 cubic feet of storage space.
A 10×10 storage unit has enough space for several sets of bedroom furniture with plenty of room left over, which makes them ideal for storing the contents of a one- or two-bedroom apartment. These storage units can store contents from one bedroom or an entire living room, a grand piano (although best in climate controlled), and even some appliances.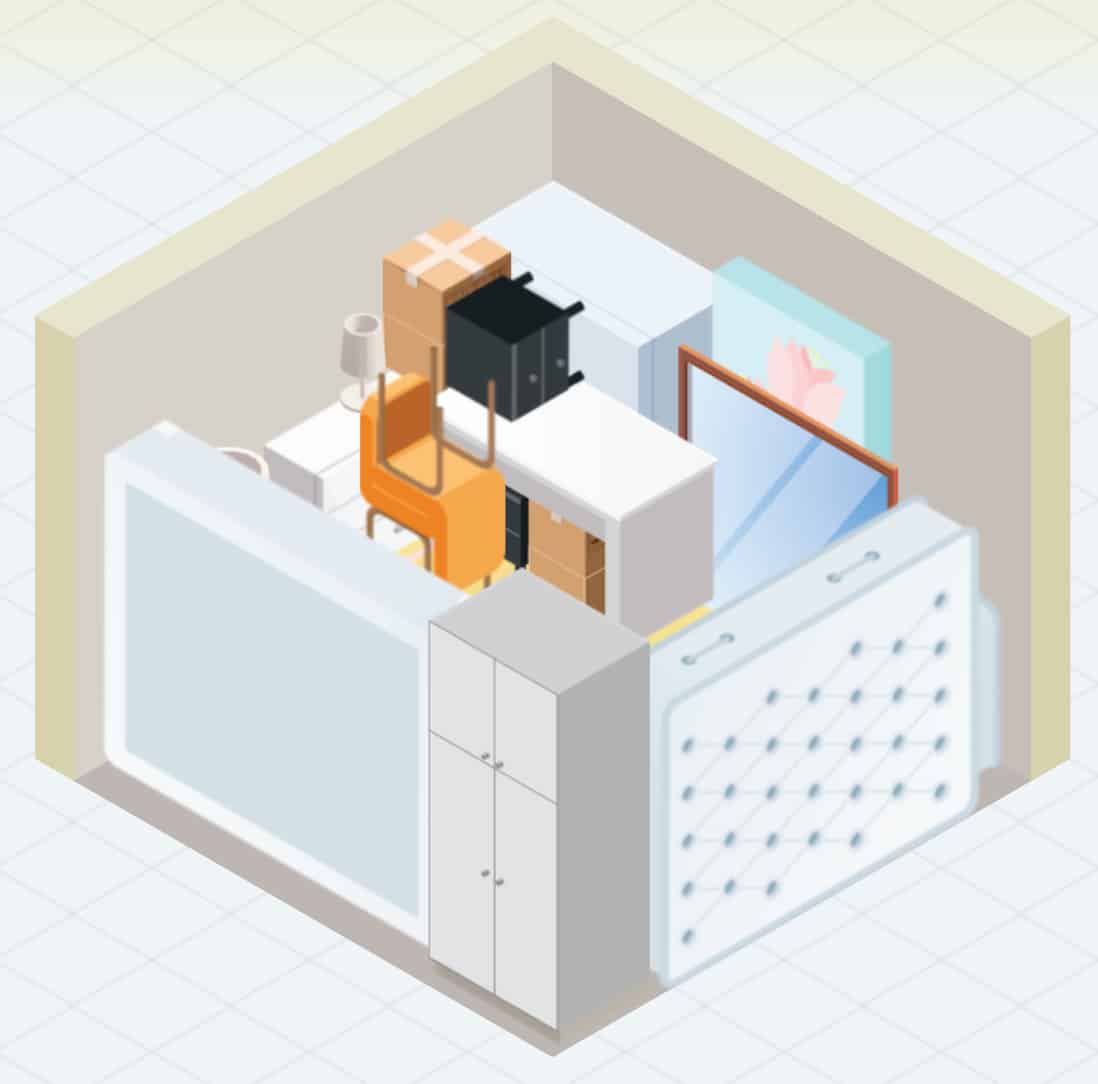 The 10×10 storage space option.
For competitive markets like ours, there's a simple way to find the right storage space… just pick up the phone and chat with the independent sales team. You can quickly get all the inside details.
The best storage rates are often kept secret. To serve you quicker, call wait time is near zero. 
Call anytime and start saving.
Tap here:
877-908-1466
More Unit Sizes (and Options) that You can Compare:
5×10 Storage Unit Size
A 5'x10′ self storage unit can store the contents of an average one bedroom apartment. Imagine a room that can reasonably fit a queen size bed, a dresser, some chairs and extra storage boxes. A 5×10 storage unit equals 50 sq ft of space. It would probably equal about 20 large boxes. Still struggling to visualize the size of a 5×10 unit? Watch this storage expert walk through how to choose the right storage solution.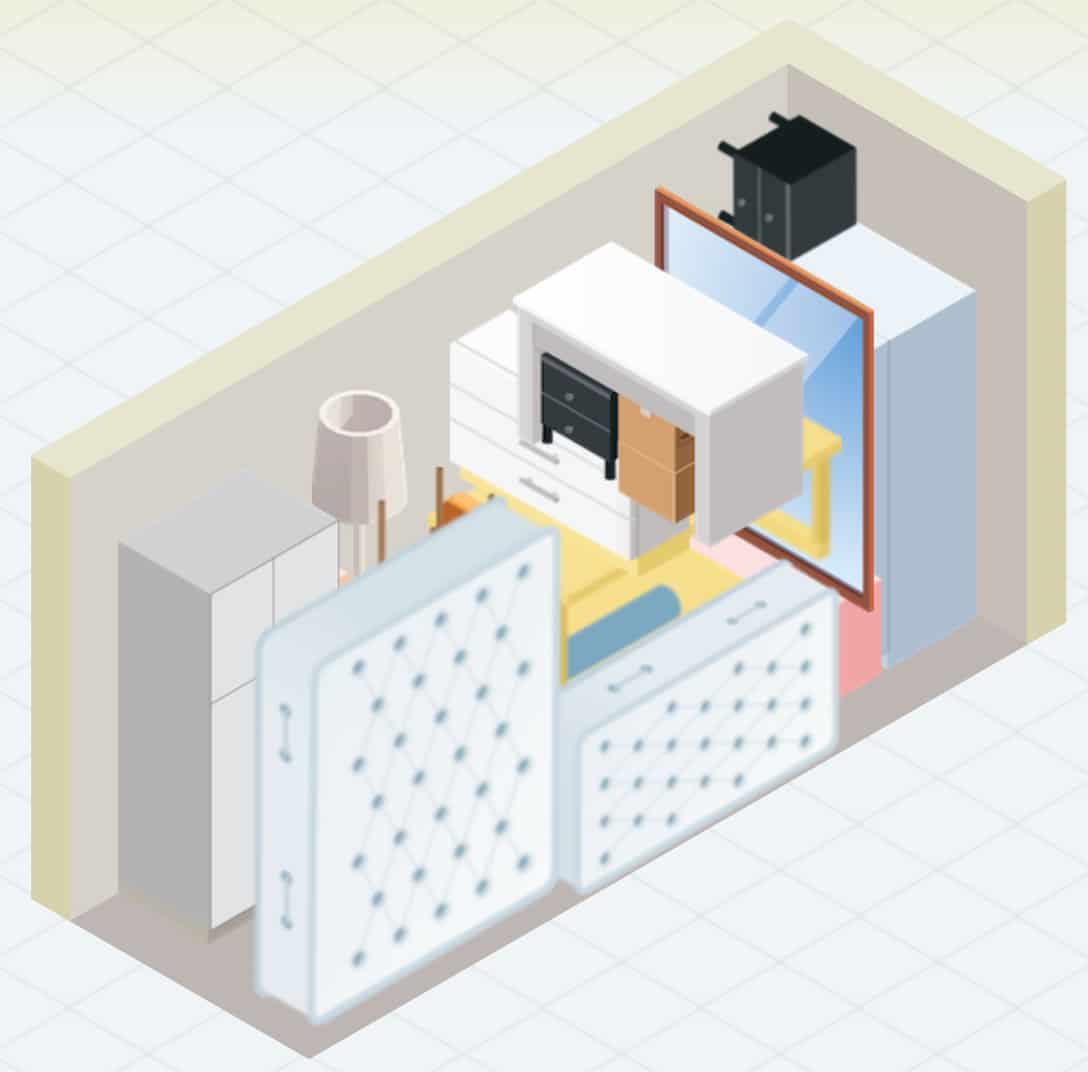 5×15 Storage Unit Size
What size is it? Similar to a large closet, a 5×15 space offers 75 square feet and 600-750 cubic feet of storage space.
A 5×15 storage unit can store the contents of an entire room and additional items like a television, couch, several boxes, and even more. You could include things like bedroom furniture, sofas, desks, kitchen tables, washing machines, refrigerators, etc.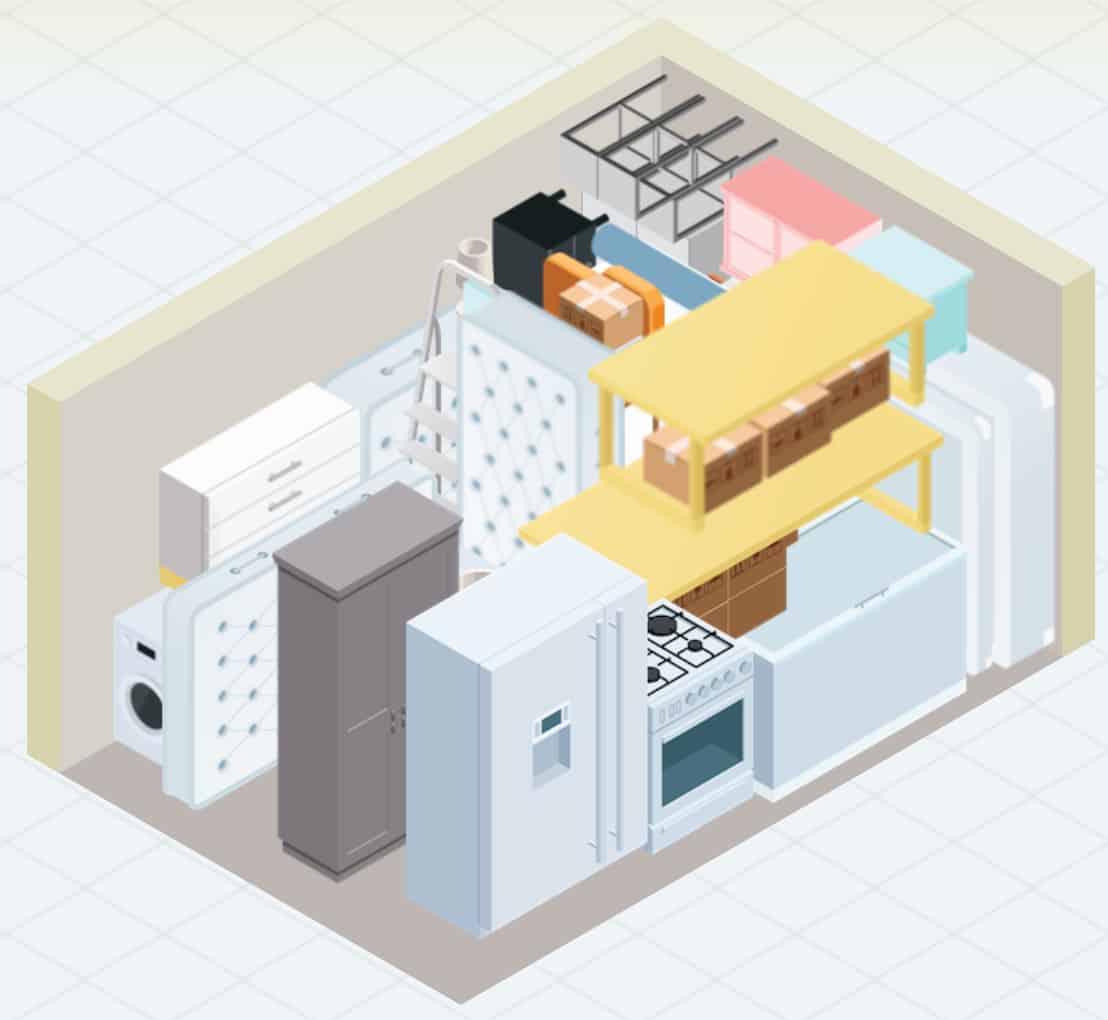 10×15 Storage Unit Size
How big is a 10×15 space… A 10×15 storage unit provides 150 square feet floor space and 1200-1500 cubic feet of storage space.
A 10×15 storage unit can hold several rooms' worth of furniture plus extra items. They're great for keeping the contents of a two-bedroom apartment organized because they take up less room than any other storage solution available.
Commonly stored items could include: Furniture from a two to three bedroom home, including the living room furniture, some small cars can fit, backyard furniture, office furniture.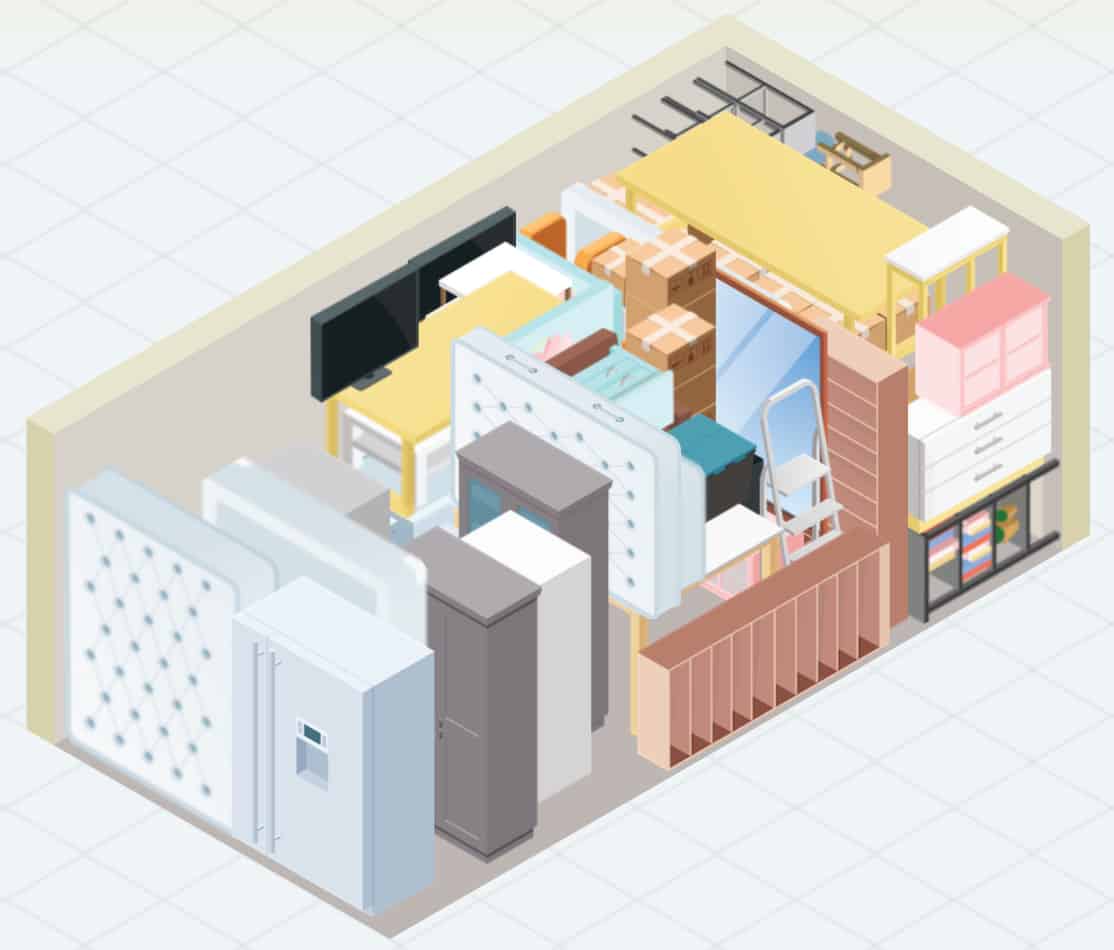 10×20 Storage Unit Size
The 10×20 storage unit has plenty of room for storing larger items with 200 square feet of floor space and 1600-1900 cubic feet of storage space.
A 10×20 storage unit can store the contents of a multiroom house, including living room furniture, bedrooms, and so forth. Some things that can fit into a 10×20 include: living room furniture, multiple sets for bedrooms, patio furniture, lawn mowers, snow blowers, cars, etc.
The 10×20 storage space option.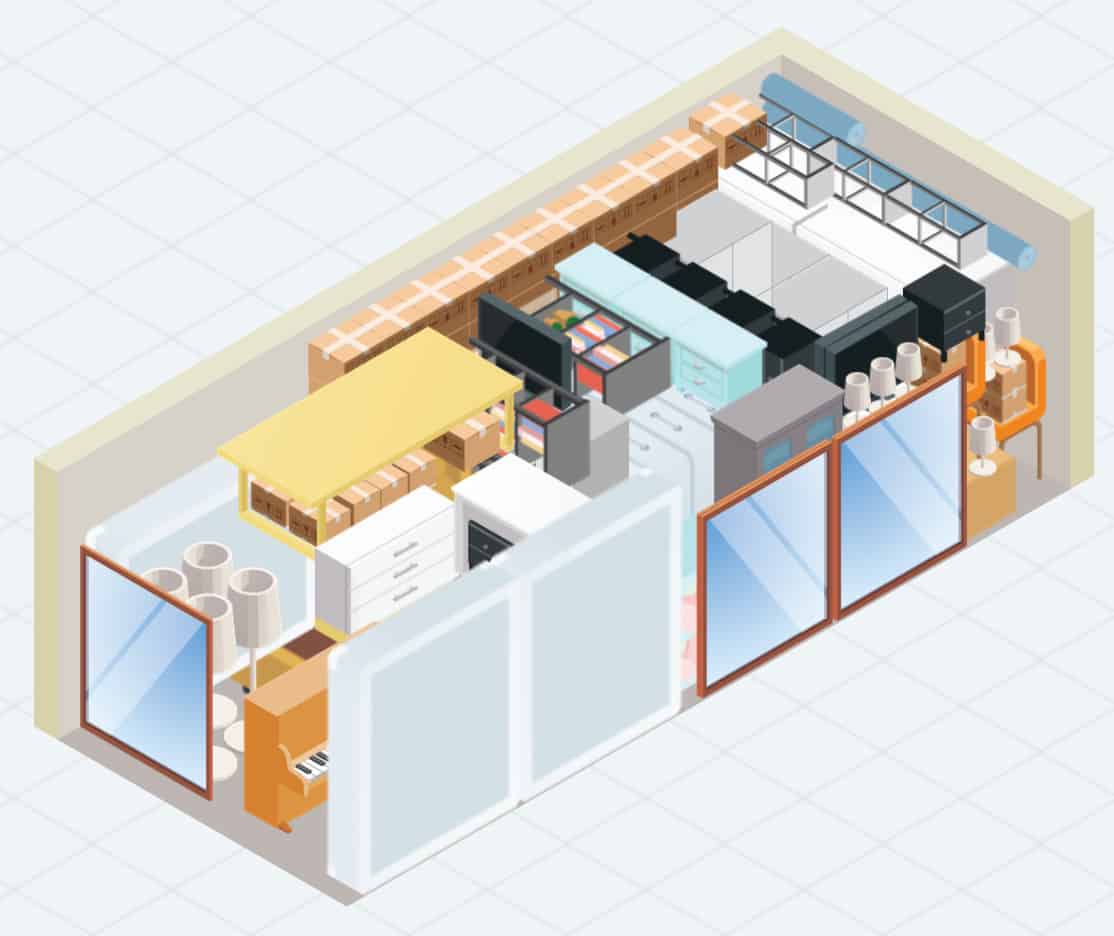 10×25 Storage Unit Size
What size storage unit is a 10×25? With 250 square feet of floor space and 2,000-2400 cubic feet of storage space, the 10×25 storage unit is one of the largest spaces offered.
A 10×25 storage unit has enough room to hold enough items to stock a 3 bedroom house. Some of the things that can fit into a 10×25 space include: a large pickup truck or van, a smaller RV, boat, office equipment, contents of a garage, up to three rooms' worth of furniture.
10×30 Storage Unit Size
Usually one of the biggest storage units available, the ten by thirty provides 300 square feet of floor space and 2400-3000 cubic feet of storage space.
A 10×30 storage unit holds approximately the same amount of space as a one and a half-car garage. These self storage units can store the contents of a four to five bedroom home. Items that can fit into a 10×30 space may include: a vehicle, contents of four to five rooms, livingroom furniture, many boxes, desks, chairs, outdoor patio furniture and other home furnishings.
If you want to be precise about how much storage space you need, try the new storage space calculator.
Automobile Storage
The smallest cars on the market might be able to fit into a 10×15 storage unit. Most vehicles — including cars, SUVS, vans, and even pickup trucks — will fit into a ten by twenty foot space pretty easily. Some larger vehicles may need a 10×25 or 10×30. See our car storage guide here. 
Piano Storage
Pianos come in all shapes and sizes. The average piano weighs about 1,500 pounds. If your piano is too heavy for a 10×15, then you should consider a 10×20 or 10×25. Pianos are sometimes stored on their sides, which means that the front of the piano faces away from the door. This allows you to access the interior without having to move the piano itself, although we don't recommend storing a favored piano on its side.
The best storage rates are often kept secret. Even though many storage spaces are sold out right now, the right call can locate a good space nearby. 
Call anytime and start saving.
Tap here:
877-908-1466
RV Storage
Once you find a space that is long enough, the next considerations for RV storage are shade and protection from people trying to steal parts off your RV (such as the catalytic converter and even your electric and plumbing accessories). For this reason, it's best to choose a location where there are no trees nearby. You also want to make sure that there aren't many open windows in the RV. Windows allow thieves to see inside your RV. If you have a lot of stuff, you might want to consider renting a 10×40 or 10×50 storage unit. These sizes provide more space than most homes.
Handy Ideas to Organize Your Storage Unit
Use sturdy boxes or heavy duty plastic containers of consistent size and shape — for packing up your belongings. Sort the group of boxes by fragility or weight so that heavier boxes are at the bottom and lighter ones are on top. Stack boxes no more than four high. You can also put boxes on top of sturdy tables. Put your more important or frequently needed items near the front of your storage space. That way you don't have to go digging around for them later.  
Conclusion
If you're looking for somewhere to start storing your extra items, then a 5×5 storage unit might be a good place to begin.
If you're looking for a small self-storage facility, a 5×5 storage unit may or may not be suitable for your needs. However, if you stack boxes vertically on top of each other, they'll take up less room than if you stored them horizontally.
If you have questions about what you can store or the right type of unit for the items you are looking to store — we're happy to help answer.
Frequently Asked Questions:
What can I put in a 5×5 space?
A large closet or a small bedroom could fit into a 5×5 self-storage unit. If you're looking for something else to store, think about things like chairs, small desks, smaller bookshelves, suitcases and lamps; 5×5 storage units may be good options for storing holiday decorations, sports equipment, and clothes. If you want to add extra space for the contents of a single small room, consider a 5 x 10 self storage unit.
Will a motorcycle fit in a 5×5 unit?
Most motorcycles won't fit into a 5×5 self-storage unit. Policies about storing vehicles can vary between places and it's always a good idea to check with your storage center manager about their rules.
If you need extra space for storing bikes, a 5×10 or 5×15 self storage facility offers plenty of room for doing so. When storing a vehicle it needs to be working, licensed and insured.
For larger vehicle storage needs, many storage facilities have three types of storage space for cars, trucks and RVs. That being indoor, outdoor, and outdoor covered spaces. We have an article about that here.
Can a washer and dryer fit in a 5×5 storage unit?
Yes… you can fit a washer and dryer into a 5×5 storage unit — it will be snug.
Will a queen-sized bed fit in a 5×5 storage unit
Queen mattresses normally measure 60 inches wide by around 70  to 80 inches long. A queen mattress might squeeze into a 5×5 self-storage unit.
But if you want to keep your queen mattress safe from dust mites, mold spores, and mildew, then we suggest using a 5×10 storage container or even a 5×20 self storage container.
How many boxes fit in a 5×5 space?
For most people, five to eight boxes will be enough for a 5×5 storage container. However, if you're storing larger items, you may need to store more than ten boxes. Some units have ceilings up to eight to ten feet high. Stacking items helps maximize the available storage space.
What is not allowed in a storage unit?
When storing items in your self-storage facility, safety is important. Don't store flammables or explosives, toxic materials, anything attractive to pests or that can cause mold or mildew, and no living things (plants, bugs, animals, people) stored.
There may be additional restrictions placed on items such as taxidermy because they can attract pests, firearms and weapons and some nonperishables. It's a good idea to talk to the storage facility manager about what you're storing there so he/she can recommend the right size container for your specific items.
Is insurance necessary to have a storage unit?
It's important to keep your belongings safe, which means having good storage insurance to help protect their value if something goes wrong.
Do Storage Facilities Accept Deliveries?
You may be able to receive deliveries directly to your self-storage facility. Contact your storage center about their delivery policy — many can accept shipments as long as you let them know first.
How do I find a cheap storage unit near me? Calling can help get the answers you need. To serve you quicker, call wait time is near zero. 
Call anytime and start saving.
Tap here:
877-908-1466