Moving can be hard to organize. Regardless of why you're moving, it can be challenging to get everything you own out of one place and into another. It takes time and effort — but it's worth it.
However, there are ways to make moving easier while taking some of the stress out of it.
Moving Storage Tips to Make it Easier
You don't want to wing it when moving. It's best to come up with a solid plan ahead of time. We've created a moving checklist to ensure you don't miss any important steps before you move.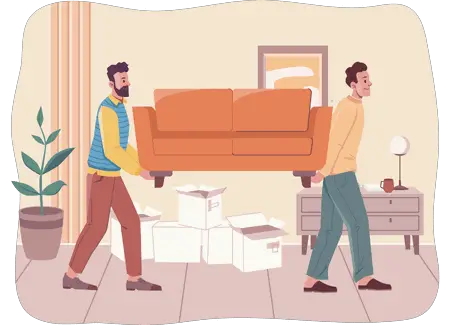 Moving is stressful enough without having to worry about your belongings. You need to know that they will arrive at their destination in good condition.
That means packing them properly so nothing gets damaged during transit.
Ways to Make Moving Easier
One of the main ways to make moving easier is to avoid waiting until the last minute to start organizing your move. It's less stressful by planning ahead — and the information below can help.
As with any move, be prepared for unexpected delays. For example, don't schedule a big family event on the same day you're moving. Along those lines, consider moving during the easier seasons. If the weather is bad in the summer or fall — try to plan in spring for your move. Although many moves aren't as simple as that, if you do have a choice it could make things less stressful.
Below are additional tips all about moving your home or apartment. It all starts by setting the date…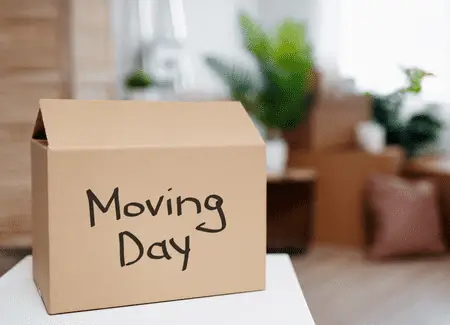 Commit to a Firm Moving Date
Commit to a set date and then plan everything around that move date. Mark it on your calendar. Double check to make the moving truck is ready for that date and that your new place is ready. If you plan to use self storage for an interim part of the move, make sure that is ready too.
Pack Your Belongings Properly
Packing boxes should be labeled clearly with your name and address. Label each box with what's inside and where it goes. This way, if anything gets lost or misplaced, you'll have a record of what was packed in which box.
Do one room at a time. It's hard to get everything done in one day. Start by doing one room at a time and work your way through the house.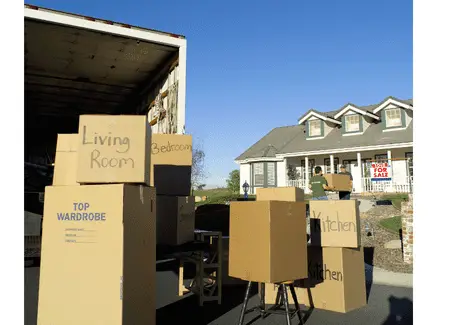 Make Sure Everything Is Ready
If you're planning to pack yourself, you may not realize how much stuff you have until you start unpacking. Take inventory of all your possessions and see what needs to be moved. Do this well before you begin packing.
If you're hiring movers, make sure they have everything they need to do the job right. They should have boxes, tape, bubble wrap, blankets, dollies, and other supplies.
Switch Utilities and Home Services
Contact your utilities company and arrange for a service switch. After you've gotten the firm moving date set for your move, call all of your utilities (electricity, gas, etc.) to ensure they're ready for when you arrive.
Tell them that you're moving and that you want arrange for a switch of the service location on your moving day.
That way, everything will be ready for when you move into your new place. Make sure they'll also disconnect your previous service from your old place so you won't be charged extra.
Most utility providers will let you switch over easily without interrupting your services.
If you're planning to move to a new area where there are different service providers, research reviews online and choose the provider that sounds best. Contact the service providers then schedule to have your services turned on.
Have A Plan For Storage
Once you've decided to move, you need to figure out a plan where you're going to store your belongings. Self-storage facilities offer short term solutions. They provide secure space for storing your belongings while you look for a permanent solution.
Don't Forget Insurance
For your moving plan, it's always smart to insure your property while you're still living in your old house. The same applies after you move. Make sure you have insurance coverage for both your personal items as well as your business. A quick call to your insurance agent can cover this.
How to Move Your Belongings
Start With Boxes
Using boxes. If you have the space, use boxes instead of plastic bags. Use bubble wrap where necessary. This will protect fragile items from damage. Boxes are much more durable than plastic bags. They also provide better protection from dust and moisture.
Labeling boxes. Include the contents inside the box and write down what needs to go where. This makes unpacking much faster and easier. Label boxes according to room and then by category. For example, put kitchenware in the kitchen, bedding in the bedroom, and clothes in the closet. This helps keep things organized.
Packing items separately. Pack heavy items first — heavy items take up more room. Put fragile items like china inside larger boxes. Items that won't break easily, such as books, clothing, and paper products, can stay in smaller boxes.
Use tape. Tape boxes shut and label each one clearly. Make sure you include the address on the outside of the box.
Avoid using plastic bags as they can tear and leave sharp edges. They also trap moisture and attract insects.
Moving Your Clothing
Pack clothes separately and into labeled garment bags. As part of your plan, make sure you pack clothing separately from other items.
Make sure you pack shoes separately. Shoes can get dirty quickly. When you unpack them, you'll have to wash them.
Keep your clothing clean. Wash all clothes before packing them away.Don't forget socks. Socks can get lost if not packed carefully.
Store linens separately. Linen can be expensive, especially if you buy new sheets every month. Packing linen together keeps it safe and prevents wrinkling.
Pack towels separately. Towels can get stained or torn over time. Storing them together allows them to dry out.
Moving Smaller Items
Keep small items together. Small items like jewelry, coins, and stamps can be stored in special containers. These items can then be kept together while you unpack.
Store loose papers in file folders. Folders keep papers flat and protect them from damage.
Moving Furniture and Large Items
Arrange furniture carefully. Don't pack heavy objects on top of light ones. Also, avoid stacking boxes on top of each other.
For your plan, allow time to wrap bulky items. Wrapping large items like mattresses helps prevent damage.
Moving Appliances and Electronics
Take care when moving appliances and electronics. Make sure you have any needed furniture dollys and moving pads.
Be careful with electrical cords. Keep them wrapped in a protective cover – even the cardboard tubes with the toilet paper removed can be used to keep a cord together.
Protect electronic devices. Place them in a sturdy box or case. Move computers and monitors carefully. Computers and monitors are delicate. Wrap the cables tightly and be sure to store them in a cool place.
Keep in mind that dangling cords can become tangled and trip people. Wrap them individually and tie them securely.
Remove batteries from appliances. Batteries can leak and cause fires if not removed prior to shipping. Put similar batteries together in plastic bags so you can put them back into their respective electronics after the move.
Keeping Records
Take photos of every room. This way, you'll remember what was in each room and what you moved.
Create a list of all the things you need to do before you move. Then cross off tasks as you complete them.
Get rid of junk mail. Junk mail can clog up your mailbox and slow down delivery services.
Waste Disposal
Dispose of trash responsibly. Trash needs to be disposed of properly to avoid attracting pests and causing environmental problems.
If you're renting, ask your landlord for permission to dispose of trash at the curb. You may be charged extra for disposing of garbage in your building's dumpster.
Contact local authorities about waste disposal regulations. Some communities require residents to use their own trash cans. Others allow residents to use community-provided bins.
You might want to consider hiring a professional to take care of waste removal. Hiring a professional will save you money and ensure that everything is taken care of properly.
Recycle paper, cardboard, glass, metal, and plastics. Many towns offer curbside recycling programs. Check with your local government for details.
It's easy to accumulate things over the years. But once you move, you no longer need these items. Get rid of them now. Don't wait until you're packing to throw away something you never used.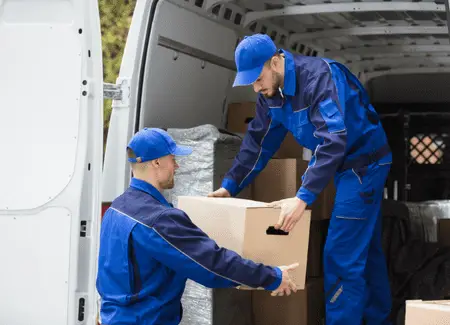 Movers and Moving Trucks
Professional movers can take care of most of the heavy lifting involved in moving. They can make your life a lot easier. Moving is stressful enough without having to worry about packing and transporting your belongings.
If you do rent a truck there are some things you should know all about moving trucks. Make sure your rented truck has enough space. Keep in mind that if you charged per mile, you want to be as efficient as possible by packing as much as possible. Pack fragile items first. Glasses, dishes, vases, china, crystal, silverware, and artwork are examples of items that break easily during transit.
If you use your own truck. A pickup truck can hold a lot of stuff and make loading and unloading easy. This can also be a good reason for friends to show up and bring their trucks to help.
Moving a Pet
If you're moving pets, make sure they don't become stressed during the move. Take them for walks beforehand so they know what's coming.
Give your pet a bath. Bathe your pet at least two days before the move. This will relax them even though at first they might be extra energitic right after the bath.
Plan ahead and prepare your pet's carrier. If possible, use a crate instead of a traditional kennel. Some crate carriers come with ramps and lids that allow your pet to climb in and out. Remove any food and water bowls. Clean the crate thoroughly.
Once the moving date comes, place your pet in the crate. Close the lid securely and keep the carrier in a well-ventilated area.
Put your pet in the car. If you're driving a long distance, you might consider putting your pet in the back seat. Otherwise, keep your pet in the crate.
When you arrive at your destination, take your pet out of the vehicle. Open the door slowly. Allow your pet to stretch his legs.
Give your pet plenty of attention. Let him or her sniff around the house and familiarize himself or herself with their new surroundings.
Make sure your pets have their shots and that you have their current shot records. If you're moving across town, you may need a boarding facility so your pet can receive regular attention. Having those records handy will make for a quick check in.
Cleaning
Set aside a day to clean your new place before you move in. This could be the date before your firm moving date.
Once everything is moved, it's time too go back and clean the old place.
Afterwards, take a break and get some rest. You deserve it!